Flora Cabaccang Agulan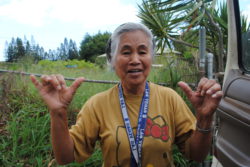 Flora Cabaccang Agulan was born in Narvacan, Ilocos Sur, Philippines in 1937. She worked hard to support her family at a young age buying and selling until she married the late Hilario "Ariong" Agulan arriving on Molokai, Hawaii in 1971. Her journey began working in the pineapple industry for Del Monte (CPC) and a weekend job doing yard maintenance for "Pepe" Cooke and the McCarthy family, tagging along the kids to teach the values of hard work. After her husband's passing in 1983, she worked for various fruit and plant nurseries and continued her buy and sell endeavors.
In 1988, she established the Kualapu'u Launderette and was better known as "Nana." She was a blessing in our community, the sweetest lady with the biggest heart, a beautiful face who always made people laugh and leave happy. In 1994, she went back to school and received her GED accomplishing her last goal. She retired in 2016 and traveled abroad to visit her families. Recently diagnosed with pancreatic cancer, Flora was such a strong and resilient women, leaving us beautiful memories until her last days.
She's survived by daughters, Hilda (Kaniela) Iaea, Glenda (Erik) Kuge, Grace (Keola) Young and Carmencita (Herman) Calpito, 11 grandchildren and nine great-grandchildren. Flora had faith in all her aspirations and sacrificed to make life better for her family. She was admired by all who knew her, for her great deeds, friendships, experiences and memories, Nana Flora will always be remembered and her great legacy will live on.