Fleshing it Out
Sculpture students expand skills.
Beginning with a fake, plaster skull and a hunk of clay, several Molokai-based artists manipulated the clay with their fingers to get the basic shape. They then moved on to a human face, using small tools to shape a nose and eyes, shaving clay away to create a cheek.
This may sound familiar – earlier this year, the U.S. Department of Agriculture, Rural Development hosted a sculpture workshop in an innovative way to stimulate Molokai's economy. By tapping Molokai's abundant creative talent, and with the support of a local casting shop, Molokai Heritage Company, the workshop helped to expand Molokai-made products.
Last April, the subject was bas relief – low-profile sculptures on a flat surface. Last week, the sculpture students expanded their skills to full round portraits.
"The purpose [of the workshop] is to give skills to create a product," said instructor Jim Franklin – while learning new skills, the students are also able to use the casting shop to complete their 3-D art and market their talents on and off-island.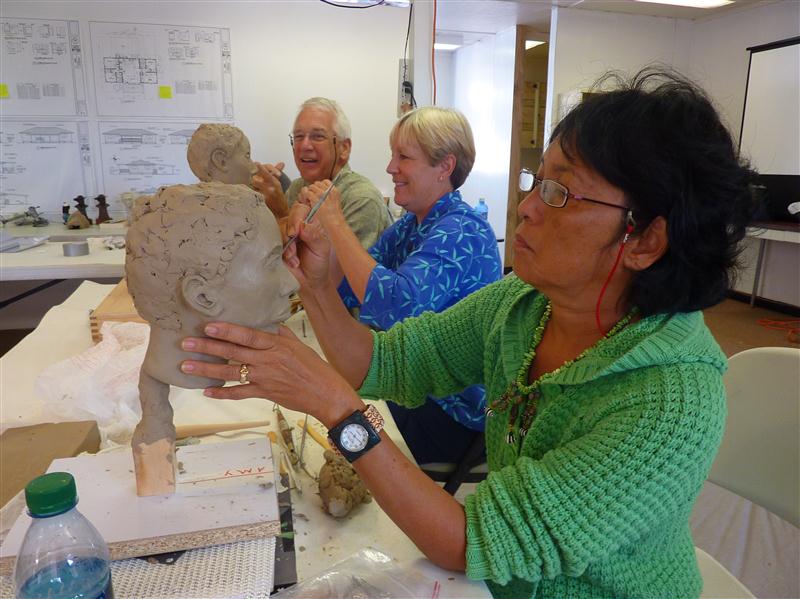 "There's so much potential here on Molokai, we could outshine Maui," as an artist community, Geng added.
Joao, who cast a koi fish from the last workshop, said he wants to create several more pieces before approaching local vendors and shops to sell his pieces. He described the workshops as a "grassroots" effort – "to nurture, expand, the talent already here."