Fish in the Net
Community Contributed
By Royden Abafo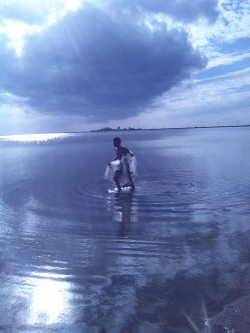 Editor's Note: Royden, a middle school student at Aka`ula School, originally wrote this in the school's Nov. 15 newsletter. It is reprinted in its entirety here.
Right there! Look at the ripples! Are you ready? Throw it! On yeah, fish in the net. Monday, Nov. 11 in the late afternoon, my brother and I were out on the reef throwing net. We caught a lot of small fish. Then, when the bucket was full, we dumped all the fish back in the water so they could grow bigger. We continued to catch more fish. The most fish I caught in the net at once was four. The fish that we were catching are called mullet, or in Hawaiian, `ama`ama. It's better to put fish back when they are small, so your kids or the next generation will have some too.
Photo by Thyra Negrillo-Dudoit. Royden getting ready to throw net, with Kaunakakai Wharf in the background.