Fish and Dive Refreshes Business
After 40 years in the same location, Molokai Fish and Dive is being moved into the gas station next door in a process that will bring several changes to the popular ocean gear and tour provider. Tim and Susan Forsberg, who have owned the shop for 12 years, said it was time to do something different, so they took on the challenge of adding fuel and food to their services for locals and tourists.
When the Forsbergs noticed Hayaku, the gas station next door, was often closed last December, they feared that Molokai would soon have only one gas station again.
"We thought something had to be done," said Tim. "[Susan and I] talked about it and decided we'd give it a go and try something that hadn't been done before."
They were already looking to downsize their existing business, Tim said. The closing of Molokai Ranch in 2008 hit them hard, and the recession changed the retail environment. So when the opportunity to salvage the gas station arose, they took it as chance to serve the community and offer new items. After a short closure between ownership, the gas station reopened in mid-December under the couple's management.
Susan described the changes as an uplift to the retail store. They are bringing with them a lot of the merchandise they carried at the old store and will offer the same activities out of their new, smaller location.
"Really all we're doing is taking the dive shop, moving it in here and adding food and fuel," Tim said as he sat by the counter of his new store. Racks of clothes and shelves of gear are already in place, and food supplies now line the front wall.
A drink fountain featuring Pepsi products, sandwiches made daily and fresh juices will be some of the Forsberg's offerings. There will be a value menu, Tim said, which will offer different items at $1.50 each week. The new store will also be cooler, featuring soft-serve ice cream and Icees along with something that could not be done in the old location – air conditioning.
"Next door we didn't have a choice," Susan said. "We tried to have air conditioning but it just didn't work."
The Forsbergs are trying a lot of new things with their latest venture. The move is a risk, but the pair is hopeful that everything will work out.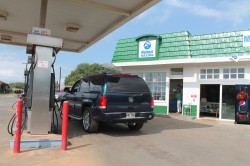 "It's a massive investment," Tim said. "We decided to give it a shot, because we've lived here, and we know there's a lot of community support. A lot of kids who grew up here have always known it [the Fish and Dive] to be here."
Susan said they've received a lot of help with the move from her parents and other supporters.
"I think what I've heard a lot over the last few weeks is 'thank you for being here,'" she said. "And that encourages us to keep going."
The Forsbergs noted that their friendly service includes assisting kupuna and anyone else who needs help fueling their vehicle.
The Fish and Dive's gas pumps have been running since December, receiving gas from Island Petroleum, which delivers barges of fuel to the island once a month.
The planned hours for the new location are 6 a.m. to 7 p.m. daily.
The old Fish and Dive store is already closed, but it will reopen February 8, 9 and 10 for a sale in which items that will not make the move, mostly ladies' wear, sporting goods and camping gear, will be discounted up to 80 percent.
Tim said he has the new store's grand opening penciled in for March 1, but he wants to make sure he has all his stock, including the Pepsi machine and juicer, are in and operating before he finalizes that day.
He reflected on the life of a business owner, saying "Work 18 hours a day, seven days a week, and you too can be a [small business] owner. You have to be willing to risk everything. It's all on the line."