First Timers Channel Success
2010 Molokai Hoe
Setting a new record turnout, 123 crews with over 1,000 paddlers from Russia to Australia navigated the Ka`iwi Channel through wind, rain and choppy water at the 58th annual Molokai Hoe last Sunday.
This year, Molokai was represented by many fresh faces to the race. Team Molokai, formed by paddlers from Wa`akapaemua, Kukui O Molokai and Mana`e canoe clubs, had five first-timers to the Hoe challenge and a father-sons trio.
Rookie paddler Troy Heen said while he may be nervous for his first run of this race, he is excited to be a part of the Molokai team.
"We are just a bunch of friends together that want to have fun out here," Heen said.
The men had a great race – beating their personal goal by finishing 24th with a time of 5:44:28.
"Coming in the top 25 is really an accomplishment," said relief paddler David Gilliland. "We had a fantastic start and the team really muscled through the tough water to keep us ahead of the pack."
Tahiti's Shell Va`a won their fifth consecutive Molokai Hoe with a time of 4:38:50 and Team OPT #1 finished second in 4:51:34.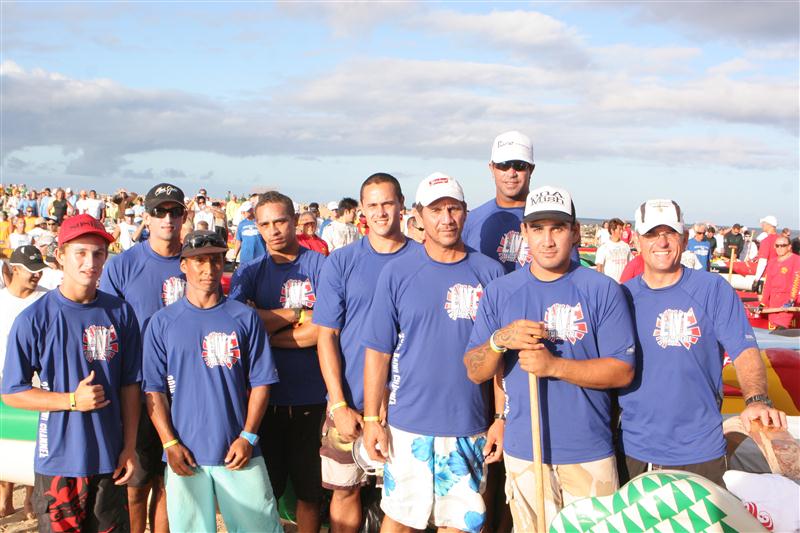 Members of Team Molokai included Clint Labrador, Dane Dudoit, Kevin Dudoit, Bozo Dudoit, Troy Heen, Asa Ward, Chad Lima, Kawika Crivello and Dave Gilliland.