First Molokai Winner for Miss HI Jr High Pageant
By Jack Kiyonaga, Editor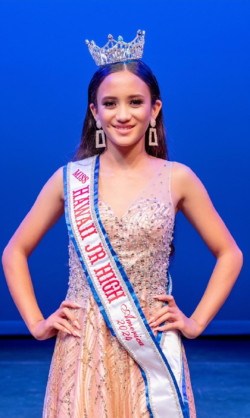 Madisyn Howe rehearses in the mirror.
"I just keep practicing my walks, my turns, the way I pose, the way I take pictures," explained Howe, an eighth grader at Molokai Middle School.
Howe is the first Molokai girl to win the Miss Hawaii Jr High pageant. The contest included girls from all over the state competing in interviews, dance and fashion modeling at Oahu's Paliku Theater on Aug. 20.
"Coming from Molokai, it's like you're getting down and dirty with everything you do," explained Howe. "I just want to let girls know they can bring it out if they want to walk in heels on stage in a dress."
Howe, who already has earned a Miss Pacific Island title, started doing pageants to build up her self-confidence.
"I was really shy at first, I just needed a way to help me with my courage and get out of my comfort zone," she explained. "My goal is to inspire girls so that they shouldn't be afraid of what they want to be or what they want to do."
Howe's favorite part of the competition is the "fun-fashion," which is more casual and showcases more of the competitor's personality.
The most challenging aspect for her was the evening gown portion, with the slow speed of presentation being the most difficult.
As someone who likes to walk and talk fast, "it's hard to take your time on stage," she admitted.
As part of the Miss Hawaii Jr High pageant, Howe was able to develop a cause to which she can dedicate her year.
For Howe, who recently competed at the state championships for paddling, the answer was the easy: keeping the ocean healthy.
"I love paddling, and I love being in the ocean," explained Howe. From picking up Gorilla Ogo and trash, to recycling, Howe is looking to "support other ways to help our marine life" during her time as Miss Hawaii Jr High, a title she will hold for a year.
For Howe, winning the competition was also a family affair. From dress making, to interview prep and more, the family effort paid off in Howe's big win.
"My cousin [Nicholas Howe] helped me with a lot of my outfits. My first outfit he actually made for me, with every single rhinestone he glued on," explained Howe.
Her mother, Hamau Howe, likewise supported her daughter as she prepared for competition – specifically the interview portion.
"My mom just asks me questions out of nowhere," said Howe. "She'll be driving and just be like 'So why do you want to do pageantry?'"
"I'd have never considered myself as a pageant mom, never ever," said Hamau Howe.
"It's really different from what you see on television," she explained. "We have a great director. The girls here in Hawaii are different. They're sisters. Even if they're competing against each other, they celebrate each other too."
Howe will reign for the 2024 year as Miss Hawaii Jr High and will then venture to Arkansas to compete in the national Miss America pageant next summer.