First Home Game Ends Football Season
It was an idyllic sight: helmets clashing, lime green jerseys, spirited cheerleaders, coolers and lawn chairs lined up and down the field, accompanied by a bustling crowd of fans shrieking "Go Farmers!"
St. Anthony's victory over Molokai didn't phase the competitive spirit felt by dozens of Molokai supporters who turned out to watch the first high school football home game in 50 years.
"There was so much love and aloha out there," said head coach Mike Kahale. "I just want them to feel so proud to be the first team to bring back football. I want them to cement that in their brains and hearts."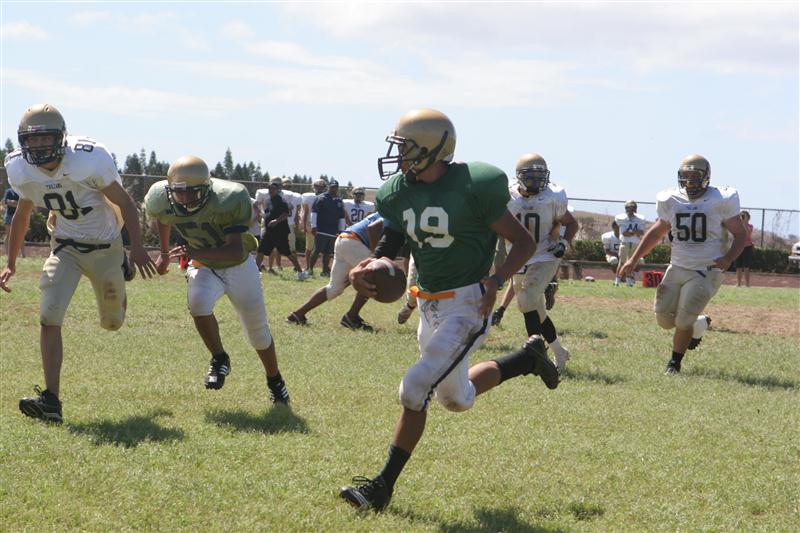 was the eventual goal."
Luckily, St. Anthony lent the Farmers helmets and gold jerseys that Molokai dyed green – which came out lime green – along with some blue jerseys.
But there was one who stood out among the rest, not only because of his distinct dark green jersey, but the talent he displayed on the field.
Freshman Noah Caparida was a highlight of the game, only playing sparingly because of an infection he had in his leg.
But he proved that a little goes a long way when he made several lengthy runs, including a 50-yard sprint that was called back due to an illegal block.
"He really stepped up," Kahale said. "I was really proud."
Despite the colors worn on their backs, the Farmers represented Molokai with pride and will continue to do so – except maybe next year, in Farmer green.