First Book-Molokai Shares Magic of Books
First Book-Molokai News Release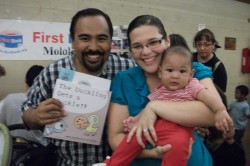 First Book-Molokai has awarded book grants to All God's Children Preschool, Maunaloa Elementary School, Kaunakakai Elementary School Fourth and Fifth Grade Classes, and Aka`ula School.  First Book-Molokai provides new, high quality books to children to start their own home libraries.  They also receive bookplates on which to place their names celebrating the importance of book ownership.
The $5,000 book grant we received from the Friends of Hawaii Charities, Inc. has enabled our program to give thousands of enticing new books to the children we serve on an ongoing basis.  The Friends of Hawaii Charities, Inc. provides needed funding for Hawaii's nonprofit organizations that benefit women, children, youth, and needy programs.  Partnering with Sony Open charity partner, the Harry & Jeanette Weinberg Foundation, the Friends of Hawaii Charities, Inc. has generated more than $13,000,000 over the past 15 years, benefiting hundreds of Hawaii nonprofit organizations.  First Book-Molokai is very grateful for their continued support.
First Book provides new books to children in need addressing one of the most important factors affecting literacy – access to books.  An award winning and innovative leader in social enterprise, First Book has distributed more than 100 million free and low cost books to thousands of communities through an extensive volunteer network of Advisory Boards, First Book National Book Bank large-scale book distributions and the First Book Marketplace.  Through partnerships with publishers, First Book is able to offer wonderful new books for an average cost of $2.50.  For more information about the nonprofit First Book please visit firstbook.org or call 866-393-1222.
First Book-Molokai has been distributing books to local literacy programs since 1994, and has distributed more than 12,000 books to schools and nonprofit literacy organizations.  Currently we are the only First Book Advisory Board in Hawaii.  Our goal is to put as many books as possible in the hands of Molokai keiki.  Key to this is the literacy component required of recipients.  Through First Book-Molokai educators create enriching learning experiences for their students.  Monthly book distributions are accompanied by curriculum units designed around awarded books, teaching parents how to read with their children, rewarding students for recreational reading efforts, pairing older and younger children to read to each other, linking books with science activities, and other engaging literacy experiences.  Books are given to children to take home and keep.  First Book-Molokai also sponsors literacy booths at community events.  For more information on how to apply for a grant or purchase low cost books through the First Book Marketplace, please contact First Book-Molokai Advisory Board Chair, Siri Anderson, at 567-9067.
Caption: Kawika, Staci and Gabriel Gonzales enjoy their "First Book" at the Christmas Ho'olaulea