Fire Destroys Kaunakakai House
By Jack Kiyonaga, Editor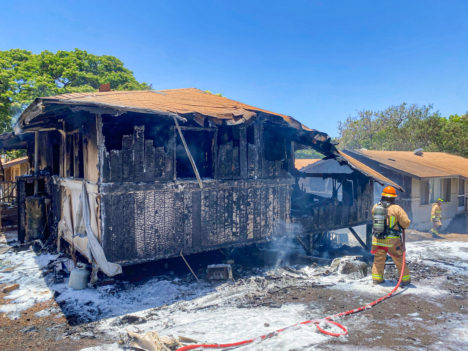 Just before noon last Monday, one of the homes at the teachers' cottages in Kaunakakai erupted in fire. By the time that fire crews were able to put it out, the single-dwelling residence was destroyed and two neighboring homes were also damaged. The teachers living in the homes were not there at the time of the fire.
Sara Jane Larkin, a teacher at Kilohana Elementary School and the occupant of the house that was fully destroyed by the fire, shared on Facebook that she and her dog were safe.
"Lola and I are okay," wrote Larkin. "No clue how it happened but it did."
Larkin explained that the house was engulfed in flames within minutes, burning at such a high heat that it melted the vinyl siding of neighboring homes.
"I wouldn't have been able to get out," she said. "It was that hot and that fast."
While the cause of the fire has not been officially determined, based on conversations with fire personnel, Larkin believes it was related to the gas line.
The teachers' cottages are rented through the Department of Education and offer affordable housing options for educators.
"The cause of the Molokai cottage fire is still under investigation and the completion timeframe will likely be impacted by the Lahaina tragedy. Any plans for a replacement will be contingent on the investigation findings," explained Derek Inoshita, a spokesman for the Hawaii State Department of Education.
"It's hard. We are so grateful for the housing that the safety of them is sometimes taken for granted," said Larkin.
Larkin says she has never seen a fire safety inspection in the four years she has lived at the cottages. She now worries about the possibility of returning to live at the cottages, but the reality of finding long-term housing on-island remains difficult.
Following the fire, the Molokai community moved quickly to support Larkin, who was left with just "her dog and the clothes on her back," according to one social media post raising donations for her. Molokai residents set up an Amazon Wishlist and Venmo for those who wanted to help.
"Molokai is so fiercely loyal," said Larkin. "The kindness has been overwhelming…I've never felt so embraced."
While she has lost her house and all her belongings, Larkin says that the experience of true community has been profound.
"I found home," she explained.