Finding Beauty Inside and Out
Cancer patients learn ways to 'Look Good, Feel Better.'
Cynthia Guterries' beautiful locks were gone.
"My eyelashes were starting to go, same with my eyebrows," she remembered. "I didn't know how bad it was going to be."
Guterries underwent bouts of chemotherapy to counteract her bilateral invasive breast cancer. Since February, she has been administered a new type of chemo – in pill form – that she will be taking for the next five years.
Women like her – some dubbed survivors, others still in treatment – gathered at the Molokai General Hospital last week – laughing and sharing stories of their mutual experiences.
All five were attending a workshop known as "Look Good…Feel Better." The program, available across the nation, has paired cancer patients with volunteer cosmetologists to help patients cope with skin changes and hair loss associated with treatments, usually chemotherapy and radiation. A guide like this one will help you understand how cosmetologists can help patients to cope with the bodily changes during treatment and how it will help them gain confidence.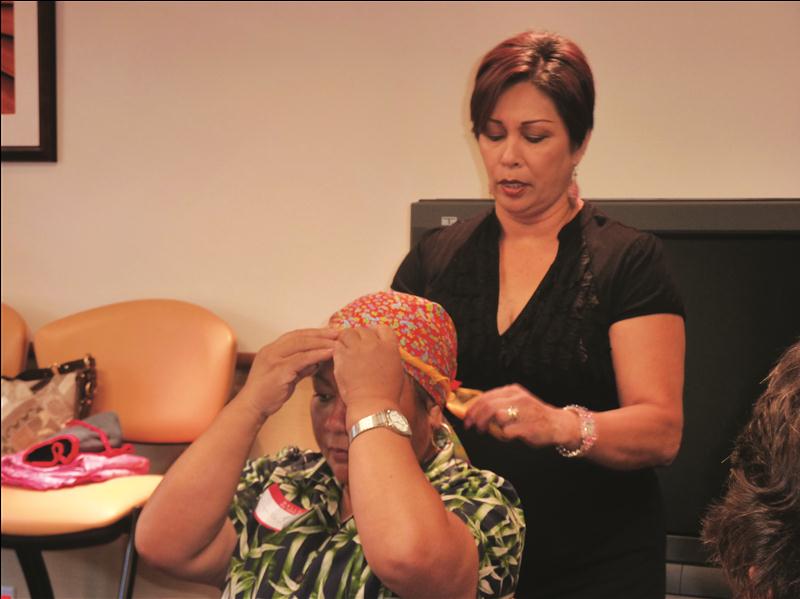 During the two-hour session, Suzette Kahana, a licensed cosmetologist on Molokai, led the small group of women through a practical, hands-on experience – teaching them about skin care, makeup application, and how to disguise hair loss with wigs, turbans and scarves.
The women received a free makeup kit – worth about $300 – to use during and after the workshop.
"It's a very positive experience," said Lily Napoleon, assistant director of the hospital's Cancer Patient Navigation program. "Women walk out with smiles on their faces."
The complimentary program evolved out of a partnership between the American Cancer Society, Personal Care Products Council Foundation and National Cosmetology Association more than 20 years ago, and has been offered on Molokai for the last three years.
The hospital's Cancer Patient Navigation program, which helps cancer patients navigate the fragmented maze of doctors' offices, scheduling appointments, lodging, transportation services and support organizations, puts on the intimate class session twice a year.
Changing Faces
As each woman sat in front of individual cosmetic mirrors, they began riffling through the red bags bursting with name-brand products like Mac, Estee Lauder, Eucerin and Chanel. Each bag was specifically coordinated to match the women's skin tone.
The class started with the importance of cleansing and moisturizing the skin.
"Clean faces make you feel good," Kahana said. "You need to cleanse and remove any impurities."
"Yeah, the Molokai dirt," joked Juanita Hulu. The room erupted in laughter.
As makeup application ensued, so did their good spirits. Napoleon said the classes offer a sense of female camaraderie, and heighten the women's confidence and self image.
After learning how to pencil in the perfect eyebrow, the ladies turned to wigs, scarves and turbans. They found the fun in colors, and even learned a thing or two.
"I heard blondes have more fun, but maybe redheads, too," said Hulu, a cancer survivor of almost 20 years, as she donned a red synthetic hair wig.
Guterries, who will be returning to work at the end of the month as a nurse for the hospital, was worried about being around people while having very little hair left.
"I feel good with the wig on, I feel great," she said. "I'm so excited to go back to work and be around people. I'm now going to look forward, and not back."
To become a volunteer or get involved with the program, contact Lily Napoleon of Molokai General Hospital at 553-3607.