Financial Woes May Suspend Ferry Route
In the face of falling ridership, the Lahaina Cruise Company (LCC) is planning to suspend the Molokai Ferry's daily round trip between Molokai and Maui, pending approval from the Public Utilities Commission (PUC), according to the company's President and Senior Captain David Jung.
"What's happening with the ferry right now, is that we're hemorrhaging money because of low ridership," said Jung. "We're trying to come up with a solution right now, but in the meantime we [plan] to cut back one trip a day. It's better to have reduced service than no service."
The route, which departs from Kaunakakai Harbor at 5:15 a.m. and begins the return trip from Lahaina at 6 p.m., runs from Monday through Saturday, and Sunday evenings, each week.
Any proposed scheduling changes must first be approved by the PUC, and Jung said they plan to submit their application to the PUC sometime this week. According to Jung, the PUC can either grant emergency relief, in which case the route could be suspended within weeks, or hold a series of public hearings, which could take months.
"We may not have that time," said Jung. "To preserve the service we need to act quickly."
Jung said trouble began last summer. Since then, the Molokai ferry has seen a 25 percent decrease in ridership, according to Jung. The 100-foot, three-story boat can hold up to 150 passengers, but over the past five months, the ferry has been averaging around 15 passengers on its early morning route from Kaunakakai. The ferry service is usually a "break-even operation," said Jung, but in recent years the company has been losing money. In 2013, the service suffered $108,000 in losses and then $288,000 in 2014.
Jung said he feels recent events have contributed to the ferry's declining numbers. With Hawaiian Airlines' return to Molokai in March 2014, increased competition among airlines has generated a "price war" that offers tickets that are sometimes $20 cheaper than the ferry's one-way ticket price for adults, explained Jung. A ticket for riders ages 13 and over currently stands at $62.04. Also, he felt the recent Maui County vote to put a moratorium on growing genetically engineered crops has left many people questioning the future of their jobs.
"People are feeling economic pressure on Molokai and can't afford to travel as often," said Jung. "… I don't blame people for trying to save money, but it's just something we are faced with."
Right now, he said, the discussion is "to see what level of participation the county will be willing to take on." He's said he's curious whether "the county would be interested in supporting a ferry system identically to how they operate the [Maui Economic Opportunity] bus system."
Maui County Councilwoman Stacy Helm Crivello, who represents Molokai, said that while they've spoken informally with Jung, no official solutions or proposals of county involvement are on the table as of now. Nobody has answers to the ferry's situation as of yet.
"That's a conversation that needs to take place," she said. "Everything comes back to budget."
Student Travel
Crivello said she is mainly concerned with the effect a suspended route could have on the island's schools, as the ferry is "a lifeline for our high school and middle school kids" who frequently attend academic and athletic competitions on Maui. Molokai High Athletic Director Lee DeRouin said the suspended route "would put great hardship" on the school, especially with teams traveling nearly every weekend.
"The ferry allows us to bring maximum team personnel, it allows us to bring equipment and also items to sleep," said DeRouin. "… If we no longer have the ferry … it will be a booking nightmare in some cases when we have multiple teams going off island."
DeRouin said teams already travel with reduced rosters, and airlines clogged with visiting and home teams could also limit the amount of parents who travel to games. Also, if only the one-way evening route to Maui were available, teams would have to leave a day early, which could cause coaches to miss their regular jobs and students to miss more school.
The fickle Maui Interscholastic League game schedules and last-minute athlete cancellations make flying more difficult, he added.
"There's times when certain athletes … can't make the trip and we already have them booked," said DeRouin. "We have to pay the penalties in some cases. We can only allow so many changes on a flight before the bills are running up."
A Bridge to Jobs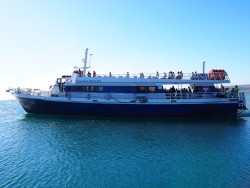 The ferry has also established an inter-island connection to jobs and other opportunities that Jung feels "really brought Molokai back into the mainstream." The ferry service first began in 1986 when Gov. John Waihee encouraged the company to run a ferry out of Molokai. Pineapple operations had just shut down on the island, and the ferry allowed Molokai residents to choose from a wealth of jobs on Maui while keeping their homes on Molokai.
Jung remembered the crowd that turned out for the ferry's first docking that year.
"The workers that went over, they were like the guinea pigs," said Jung. "Everybody said, 'The ferry can't do it, the channel's too rough,' and everybody was waiting to see what happened. When the workers got off the boat in the evening … they got a whole round of applause."
For a time, the company received a $30,000 monthly subsidy from the state, allowing them to offer daily Molokai commuters discounted round-trip tickets. At the height of the daily commuter program, they had 60 people, but now Jung said there are only about 10.
When Gov. Ben Cayetano eliminated the subsidy in 1995, Jung closed down operations. The ferry was back in business and running regular routes between Lahaina and Kaunakakai in 2001, but seven years later, the rising price of fuel prompted the company to add a $26 fuel surcharge to the $40 ticket price.
Jung said the 2008 price change didn't have a significant effect on ridership. However, he doesn't feel a change in rates is the solution this time. Raising the cost would put the company even further out of competition with airlines, and Jung said they've already pared down so many expenses that cutting rates to attract ridership isn't possible either.
"People think we should be able to change the cost," said Jung. "We're about as close to the bone as we can be [with expenses]."
Crunching the Numbers
In 2001, Jung told the Honolulu Star-Bulletin that he needed about 100 riders each day to operate without subsidy from the state. With daily numbers down, he feels a government subsidy would again be a solution.
"Either we get a subsidy or we go ahead and turn ownership over to the county," he said.
The company now uses its own funds to subsidize daily commuters. Filomena Sayaboc, who's been riding the morning ferry route to her housekeeping job on Maui for 28 years, said she takes the boat because of the discounted, $25 round-trip tickets. She said that while switching to airlines would be more expensive, it wouldn't affect her job and she'd still live on Molokai. Daily commuter Micah DeKneef, who's been working as a painter on Maui for the past two months, said he might consider moving to Maui or altering his work schedule if the twice-daily route were suspended.
Crivello said it's also important to have a discussion with the employees before any decisions are made. The company employs about 10 people on Molokai, and Jung said they would still offer those employees a job if the operation relocated to Maui.
"If it were based out of Lahaina, I'd basically be out of a job," said crewmember Cory Napoleon, who said the possibility of moving to Maui would be something he'd have to discuss with his family later on.
DeKneef added that this could be a chance for people to boost ridership by seeking new job opportunities on Maui and commuting by ferry.
"If people find out there are more opportunities to travel for work, maybe people will jump on," he said.
Ridership over the next few months, fuel prices and the length of the PUC decision process over the proposed schedule change could determine how long they decide to continue operating, said Jung.
"This has been really week by week," said Jung, who added they're also considering the best move for the ferry's long term future. "… We can keep surviving and putting Band-Aids on, but in the long term a government agency's gonna have to step in."