Film Explores Community-Based Resource Management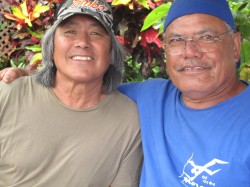 Pacific Islanders in Communication News Release
The half hour documentary film "Fishing Pono: Living In Harmony With The Sea" tells the story of declining fisheries and how some Native Hawaiian communities are using traditional conservation practices to restore their fishing grounds.
Featuring lifelong fisherman Kelson "Mac" Poepoe, narrated by Kauai native Mauna Kea Trask, and directed by award winning helmer Mary Lambert, "Fishing Pono"follows Trask as he travels to Molokai to meet Poepoe and learn how his community based conservation program succeeded.
Poepoe's fishing conservation program on Molokai, based on historical practices, is an inspiring story of how one community turned the tide on a seemingly doomed resource.
His community based management approach has been recognized throughout world and garnered a number of Lifetime Achievement awards for Poepoe including the 2013 Native Hawaiian Advocate of the Year award from the Native Hawaiian Legal Corporation.
"Fishing Pono"has won entry into a number of film festivals including Maui Film Festival, Hawaii International Film Festival, Tahiti International Documentary Film Festival, Bermuda Film Festival, Wild & Scenic Film Festival, and Ft. Lauderdale Film Festivals, among others. It recently aired on PBS Hawaii.
The documentary was produced by Kauai attorney and filmmaker, Teresa Tico, who was inspired to make the film after reading an article about Poepoe in a Hawaiian Airlines inflight magazine.
"I was drawn to Mr. Poepoe's story because of the success of his program," said Tico. "In the beginning, no one wanted to work with him.  But over time, he convinced the community that they had to take charge of their resources and not wait for government to restore the fishing grounds.  His story gives hope to future generations."
"Fishing Pono" was filmed by Honolulu cinematographer Mike May on Molokai, Kauai and Oahu.  Hanalei resident Eddie Abubo was production assistant. SJ Hylton and Tony LeHoven of Kilauea provided the sounding recording.  Michelle Harrison of Los Angeles and Shirley Thompson of Honolulu served as editors.
"Fishing Pono" is a co-production of Pacific Islanders in Communication (PIC).  Major funding was provided by the Corporation for Public Broadcasting (CPB).