Festival of Hope Provides for Families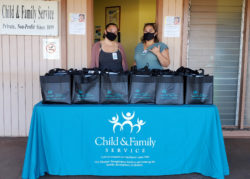 CFS News Release
Child and Family Service (CFS) hosted the Festival of Hope for Families, a walk-up event offering local individuals and families support resources, services, and food gift certificates from Oct. 12-16. Part of a series of statewide events, Molokai's Festival of Hope for Families helped provide needed supplies, resources, and family-friendly activities to those in need during the pandemic crisis.
This family-focused festival followed social distancing guidelines and required that all attendees follow safety guidelines when walking up to the Child and Family Service Molokai Office where groceries, food gift certificates, Community Resource Kits, PPE items and advice, and education resources were distributed. Attendees received a CFS Family Lokahi Kit, which includes items purchased and donated by local businesses like children's books by local authors, family talk story cards, coloring books, art supplies, parenting and family resources, school supplies, stress relief ideas and hotline information.
"We've been having festivals throughout Hawaii and we're excited to hold one for the Molokai community!" said CFS President and CEO, Karen Tan. "With so many affected by the pandemic, and many people in need of resources, our goal is to bring hope to our community through these outreach events."
The Director of Molokai Programs, Shana Orta, said "Just like the rest of the state, the Molokai community is dealing with the many challenges of the pandemic. We are so grateful to all our partners that helped to make this event possible and enabled us to reach the people of Molokai with our Festival of Hope."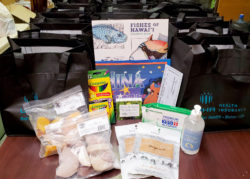 These events are part of a series of drive-thru giveaways throughout the state during the COVID-19 crisis. This statewide festival is supported in part by a grant from the Hawaii Resilience Fund of the Hawai'i Community Foundation. CFS is honored to partner with, Maui Nui Venison, Kamaka Airlines, Hawaii Ulu Coop, Bess Press, Chef Hui, American Savings Bank, Friendly Market, Community by ALTRES, and Under My Umbrella to offer this fun event for the community to help those impacted by COVID-19.