Felix John Kehano, Jr.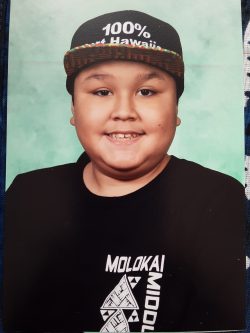 Felix John Kehano, Jr. was born in the morning of March 22, 2005 in Wailuku, Maui.
He spent the first seven years of his life on Maui doing the things he loved to do. Felix loved spending time with his family, riding horses, playing soccer, camping, going to the beach and going holoholo. Felix and his family were heavily plugged into Pukalani Nazarene church while on Maui.
In 2013, Felix and his family relocated to Molokai. Felix enjoyed being a part of the Kualapu'u Robotics team, visiting the Molokai Art Center and doing arts and crafts, working on the homestead with his family, gaming with friends from school and friends afar, helping to restart the Molokai Nazarene church in Kalama'ula, creating on YouTube (dmdgamer_youtuber), hanging out in his Kualapu'u neighborhood, and playing Fortnite (maui_hammah).
On Saturday, June 27, 2020, Felix went to be with the Lord after his journey with Duchanne Muscular Dystrophy (DMD), a disorder of progressive muscular weakness. Both the communities of Maui and Molokai are mourning the loss of Felix. He has always impacted those around him, leaving both communities to honor the vibrant spirit and bright smile.
Felix is survived by his mother, Cheri Rivera (Alika Kahue), his father, Felix Kehano, Sr., and sister, Kapua Kehano.
His services will be on Saturday, Aug. 1, 2020 at Molokai Nazarene with visitation starting at 9 a.m.