Farmers Make History
Girls volleyball wins state title
You could say it was history in the making.
The Lady Farmers laid the foundation in years prior – clinching three consecutive Maui Interscholastic League (MIL) Division II titles and finishing third in last year's state championships.
So when the Molokai High School girls volleyball team stepped out on the court last weekend as top contenders in the state tournament, they found themselves paving a road of gold – not only capturing their first D-II state title, but also the first by an MIL team.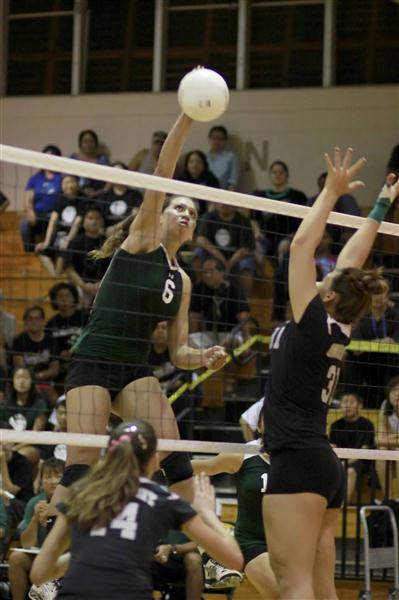 "Fortunately I had a lot of kills," Vaivai said. "But I really need to commend my teammates for getting my back."
A strong team effort put forth by Molokai helped the Farmers overcome University, the Interscholastic League of Honolulu champions, in a 25-12, 25-10, 25-18 defeat at McKinley gym.
"This was a team we lost to in the pre-season," Helm said. "It gave us another fire under our behinds to play even better."
As the Farmers' long emotional journey came to an end, many rushed to the floor in tears and celebration, embracing one another like family.
"We're all like sisters because we went through so much together," Vaivai said. "Our coach is also a huge part of this team. He always teaches life lessons and that there is no 'I' but 'we.'
"We're so proud we won this for him. He really deserves it."
Helm said while he's already pumped for next season, he's going to enjoy this win for now.
"We're still taking it all in… We're so proud to bring home this trophy for everybody, for the community, for Molokai."