Farmers Lose to Bears
The Farmers volleyball team lost two full set matches against the Baldwin Bears last Friday evening and Saturday afternoon at the Barn. The Bears remain undefeated on the season, while the Farmers are now 2-4.
Friday night's game started off with quick kills and well-coordinated blocks by the Farmers, which helped them win the first set 26-24, but they quickly lost their momentum and were downed in the second and third matches with scores of 22-25 and 19-25. Farmer David Gomes had eleven kills, 1 block and 1 ace in the game.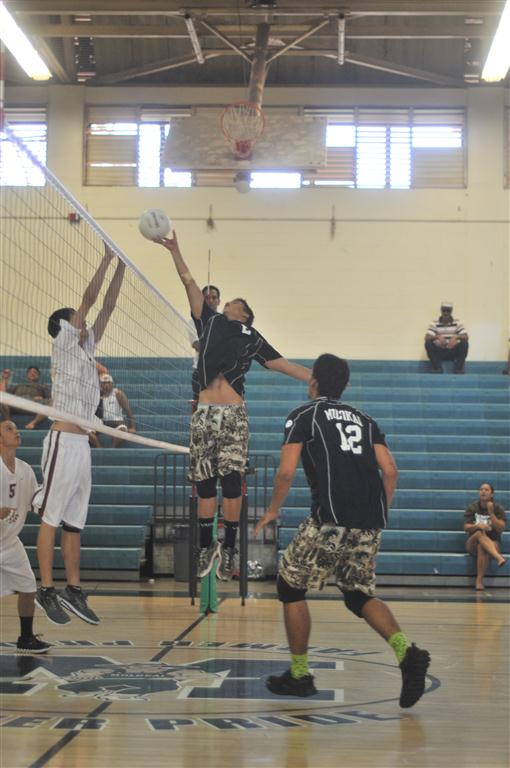 "We played much better today, but the errors cost us," said coach Bill Dudoit.
The Farmers went on to make an impressive rally in the fourth match and win 25-13. The fifth match also started off well for the Farmers, but Baldwin was too much for Molokai and the Bears were able to close the deal 13-15.
"They weren't dropping the ball today, "said Claude Kapuni, a senior.
Dahvin Spencer-Bassa also helped his team with his sixteen kills, while Nainoa Langer had four aces.
"As far as team, we did pretty good," Langer said. "But we came up short making too many errors."
The Farmers came out to redeem themselves on Saturday afternoon against Baldwin. They came on top after the first two sets, 25-12 and 20-12. But they could not contain the Bears.
The Farmers dropped the next three matches to Baldwin, 21-25, 22-25, and 11-15.
The boys' volleyball team will play at home again next weekend against Seabury Hall.