Farmers Host the Canadians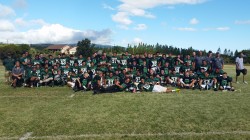 Community Contributed
By Mike Kahale, MHS head football coach
On Tuesday, Aug. 19, the Molokai community was treated to a football game that had a bit of international flair.  The Farmers hosted Holy Trinity Academy from Alberta, Canada.  A group of 26 athletes made the 3,100 mile trip to Hawaii to play in a pre-season matchup.  Both teams agreed to compete in a "controlled" scrimmage format, forgoing any special teams and allowing each team to concentrate on offensive and defensive plays.  The format also gave each team the opportunity to substitute three different groups, giving everyone a chance to play.
Molokai scored on their first offensive drive with a touchdown pass to Kaimana Kahale.  Sophomore quarterback John-Michael Mokiao-Duvachelle passed for two additional touchdown passes to Willie DelaCruz during the game.  Alden Abafo added two more touchdown runs of 20 and 43 yds.  The final score ended at 30-6 in Molokai's favor.
We'd like to express our appreciation to the Canadians for making the trip to Molokai.  Our athletes hosted the opposing team in their homes for two nights.  Relationships were built and friendships made which extend beyond the game of football.  This was a great experience for all that were involved.
The next MHS football game is Saturday, Sept. 13 on Lanai.  First home game is Saturday, Sept. 27 vs. St. Anthony at 11 a.m.
It's that time of the year again for our Annual Football T-shirt fundraiser. This year's theme is "Rise Up – E Ho'okanaka." Order your 2014 design now! It's our biggest fundraiser and has helped our athletes suit up, travel to off-island games and continually provide s funds to operate a successful Football Program on Molokai. Athletes will be coming around to ask you to purchase shirts. Please support them. T-shirts are $15 each with an up-charge for XXL ($17) and 3XL ($18).