Farmers Earn Third MIL Title
MHS volleyball team prepares for state.
It was almost a certainty they would do it again. The Lady Farmers not only clinched the Maui Interscholastic League (MIL) Div. II title for a third consecutive year, but earned themselves a seeded spot in the state tournament on Oahu.
Molokai High School's volleyball team traveled to Maui last weekend, where they defeated both Lanai and Seabury Hall teams in the MIL Div. II Championship tournament.
In Thursday's first semifinal match at the Lahainaluna gym, the Farmers (9-0) outlasted Lanai 25-8, 25-16, 25-19.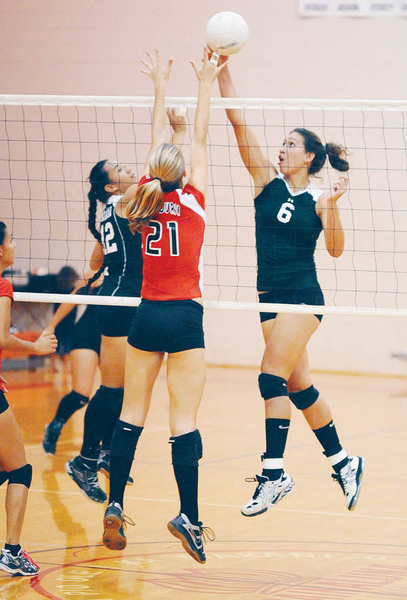 Kailana Ritte-Camara led Molokai's scorers with 11 kills, followed by Kalei Vaivai with seven and Natalia Levi with six.
"Everybody got the chance to get out on the court and play," said head coach Matt Helm.
On Friday, the Farmers were faced with slightly tougher competition, but managed to shut down Seabury Hall in a 25-12, 25-22, 20-25, 20-25, 15-11 win.
Helm said the girls "broke down" in the third and fourth sets, which was a test of their strength and will.
"They felt their backs up against the wall," he added. "They realized they needed to snap out of it. They were playing very timid but got more aggressive… and played to win."
Kalei Adolpho took the lead with 12 kills. Ritte-Camara trailed shortly behind with 10 kills, 13 digs and three aces, while Vaivai posted 10 kills and 12 digs, and Levi with 10 kills and three aces. But none of them could have done without Kawena Puhi, who recorded 41 assists for the Farmers.
"We really enjoy this," Helm said of taking home the title once again. "Sometimes it's easy to overlook the success of winning an MIL championship."
Looking ahead to the state tournament, Helm hopes the girls stay "in the moment."
"I don't want them to look to far ahead, but I also don't want them replaying what happened in the past whether it's one second or five minutes ago," he said.
The state championships are scheduled for Oct. 27-30 on Oahu.