Farmers Beat Division I Team
Volleyball wins final home games
The Molokai High Farmers volleyball team sent off their seniors with two wins for their senior night last weekend, improving their record 4-6 over the Maui High Sabers, a division I team
The Farmers came out on fire last Friday evening, winning 25-22, 25-13, 28-18.
Senior Claude Kapuni helped his team with five blocks, while senior Nainoa Langer had 25 assists, as well as three kills, blocks and aces.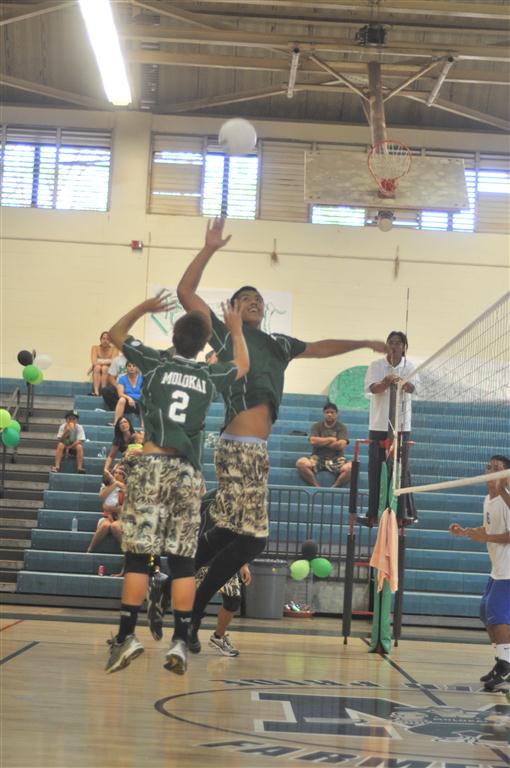 "This is the best game we've played so far. We did a good job," Langer said.
Langer put the second set away on Friday night with a powerful kill to Maui High side, before the Saber's defenders had a chance to blink.
"I think they stayed together as a team and remember that we have to have fun and fellowship in being together," said coach Bill Dudoit said. "Our blocking was also very good."
Saturday's game followed suit, as the Farmers shut out the Sabers 25-21, 25-22, 25-12.
"I will miss playing in front of the home crowd and being comfortable here," Kapuni said.
Langer will also take fond memories with him of playing at The Barn.
"I'll miss the support and exciting moments like getting a good kill and hearing the crowd 'go off'," he said.
The Farmers will play their last regular season matches against Hana (3-6) on Maui this weekend, and begin the Maui Interscholastic League (MIL) Division II tournament on May 12.