Farewell to Colette Machado
By Catherine Cluett Pactol | Editor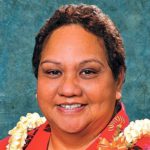 Molokai's Colette Machado, a former Office of Hawaiian Affairs trustee of two decades, Hawaiian advocate and community leader died on May 23, officials said. At the age of 71, she passed away at Queen's Hospital after an extended stay, though her passing was unexpected by many who knew her.
"We are shocked and saddened by today's news of the sudden passing of former Office of Hawaiians Affairs Board Chair Colette Machado," said OHA Board Chair Carmen "Hulu" Lindsey in a statement on May 23. "Colette proudly served the Molokai and Lanai communities for 24 years as a dedicated and committed trustee. She was a true mana wahine who spent her life in service to the Native Hawaiian community and she will be dearly missed. Although this is a sad day at the Office of Hawaiian Affairs, we will continue the work that Colette so passionately undertook as a role model in serving Native Hawaiians. Our deepest condolences and aloha go out to Uncle Myron and the Machado ʻohana."
Machado was first elected to the OHA board in 1996, serving as chairperson from 2010 to 2014, and again in 2017. She ended her time on the board when she was voted out of the Molokai seat in 2020, succeeded by Luana Alapa.
Machado also served on multiple community boards and organizations, on Molokai as well as statewide. She was also a founder of the Molokai Land Trust, serving as its first president.
"The word 'grassroots' is synonymous with public service and community engagement. It is also a word closely associated with Colette Machado, who during her decades-long career in the public sector, had the ability to effect positive change for the constituents she served," said U.S. Congressman Kai Kahele. "Colette will be remembered for her commitment to serving the Native Hawaiian community. Her unyielding support and advocacy for the advancement of Native Hawaiians is evidenced through her work with the Office of Hawaiian Affairs, State Land Use Commission, Molokai Burial Council and Kahoʻolawe Island Reserve Commission, to name a few. Maria and I extend our heartfelt condolences to her 'ohana and loved ones. We are grateful for her significant contributions to Hawaii. She will be missed."
Molokai activist Walter Ritte called her "a great lady who fought for the protection of Molokai and gave her life for the betterment of Hawaiians," in a social media post.
"We have lost a great lady! I can feel the emptiness but aloha fills the void," he wrote.