Falsetto Winner
On Saturday night, Sept. 10, while Molokai was jamming to the sounds of Sashamon and friends, I was in Kapalua, Maui, enjoying awesome island music at the Ritz Carlton as they hosted the 10th Annual Richard Hoopii Falsetto Competition. This event was created to help promote and perpetuate the beautiful and unique art of Hawaiian falsetto singing.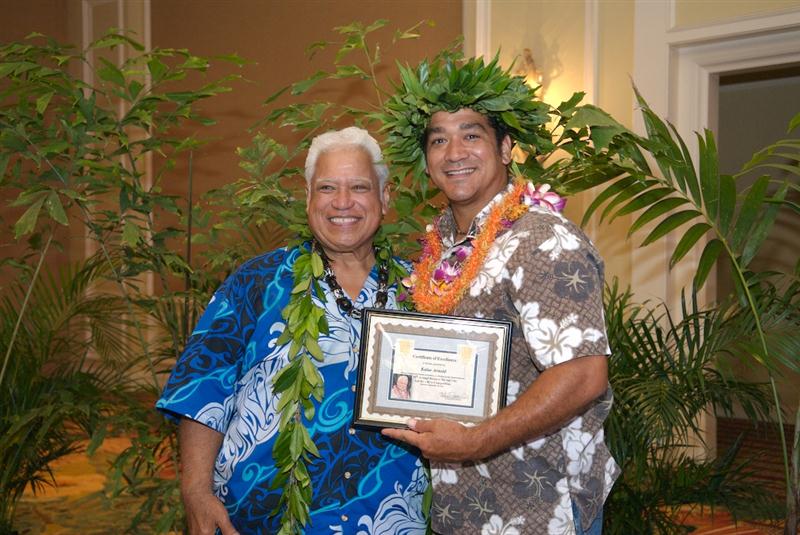 A large crowd gathered in the prestigious main ballroom as the five contestants from five islands competed for cash and prizes. Taking the top spot of the evening was 18-year-old Kaui Kruegar from Maui. Kaui took home $500 in cash, $150 in gift certificates, a mini canoe paddle trophy and an exclusive gift basket full of goodies from the Hoopii ohana.
In second place was 22-year-old Micah Hoapili De Aguilar from Hawaii Island. He won a well-deserved $300 cash, $150 in gift certificates, a canoe paddle trophy and a gift basket.
In third place was myself, Kalae Arnold, representing Molokai. I was more than happy with $200 in cash, as well as the same gift certificates, trophy, and a gift basket.
The runners-up were Kamakana Lopez from Lanai and James Koakane Mattos from Oahu. These two young men were exceptionally talented with amazing vocals and they both walked away with gift baskets and certificates of excellence.
After the competition, we were all treated to a performance by the one and only Na Pala Palai. I would like to thank all my sponsors for their kindness and support. Mahalo to Lucy and Dave Jung of Lahaina Cruise Company. Danny Mateo, Tina Thompson, Nani Watanabe of Festivals of Aloha and Moana's Hula Halau. Mahalo also to Uncle Richard Hoopii and ohana and the Ritz Carlton for a wonderful experience.
'Til next time, much mahalos and aloha.
Kalae Arnold