Fall Sports Vamp Up
While some kids moan and groan in wake of the back-to-school season, others are beaming with excitement now that Molokai High School (MHS) sports are back on the agenda. This year the Farmers will compete in three fall sports and all of the teams are entering their season with high hopes.
Girls' Volleyball
The Molokai High School girls' kicked off their pre-season with a couple of highs. While the girls received fifth place out of 16 teams in the Ann Kang Invitational a few weekends ago, they slid into second this past weekend at the Maui Volleyball Invitational at Kamehameha Maui.
Battling against 16 teams once again, the Lady Farmers outlasted their competition all the way to the tournament's final. After beating Kamehameha High School in the semifinals Saturday, 25-20, 21-25, 25-16, Molokai fell short to University High, 25-22, 26-24.
While the team was left without stellar player and University of Hawaii recruit Kalei Adolpho, they still led with a few notable performances. Junior outside hitter Kalei Vaivai had 17 kills and 10 digs against Kamehameha, while setter Kawena Puhi had 36 assists and nine digs against Kamehameha.
"They did well," said Farmers coach Matt Helm. "My expectations [for the season] are to everyday work out, be the best prepared team in every single match and have a great worth ethic."
Boys' Cross Country
Coach Gandharva Mahina Hou Ross said he'd like to take the whole team to states – meaning they would a top two Maui Interscholastic League (MIL) team – but lost some of his best runners last year.
"We've been graduating quite a few of our top runners lately," he said, but have retained some up-and-comers. Returning state qualifiers include senior Kevin Dudoit, and sophomores Akona Adolpho and Israel Adolpho. The team has 11 runners this year.
There are no divisions in cross country, which Ross said was a benefit to the Farmers. At their meets, the three mile race includes bigger teams such as Seabury and Maui Preparatory Academy.
Ross said their first meet against Hana will be a warm-up for the rest of the season.
"[I'll] be feeling it out, where we are at, and [what] to work on in the coming month," he said.
The boys will head to Hana this weekend to compete in the first MIL meet on Aug. 28.
Girls' Cross Country
The girls' team also has some returning state qualifiers who are ready to make it again – only this time, do better. Juniors Charisse Manley and Petrisha Alvarez ran at the state championships last year, and are joined by five other girls, all hoping to make it to states as a team.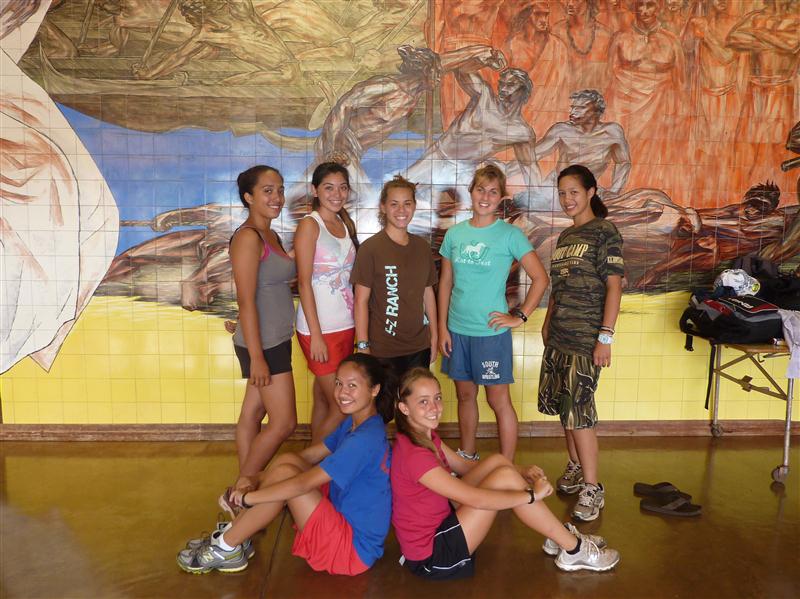 ," said Coach Kelly Go, adding the team goal is "to have no girl stop in practice or during a meet."
This is Go's first year coaching cross country, but learned the value of athletics when she ran for MHS.
"Running is an important part of learning life skills," she said. "As an individual sport, you have to be mentally strong."
The girls have their first meet on Sept. 18 at the Lahainaluna Invitational.
Air Riflery
Air riflery coach David Kalani said he is hoping to put together a strong team of both genders after last year's disappointment. Molokai shooters failed to place in the MIL championship last October.
"Last year was terrible," he said.
Practice started on Monday with a safety orientation. For the teams' beginners, Kalani warned air riflery can be a difficult sport to pick up.
"It takes a while to get used to it – to adjust and get the feel and to get the finer points in shooting," he said.
The teams' first competition is a league meet at St. Anthony High School on Maui on Sept. 25.