FADs Not Going Out of Style
Local fishermen work to replace an important resource.
Molokai fishermen have been working hard in the last few weeks to find every channel possible to save one of their most important resources. Those who rely on the ocean for a living, also rely on Fish Aggregating Device (FAD) buoys.
Recently, the FADs around Molokai and neighboring islands have been disappearing at an alarming rate. While storms and rough surf can sometimes cause the buoys to break loose, more often than not the damage is caused by barges and tugboats. Local fisherman and state officials are teaming up to solve the problem.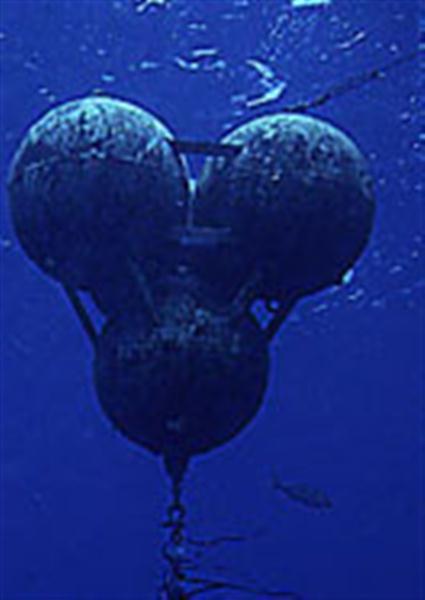 "Things are always going to happen out there. I think, though, that we can work together to minimize our problem," said FAD Program Supervisor Warren Cortez.
FADs were first installed in the waters around Hawaii in 1980 by the state's Division of Aquatic Resources (DAR). Fish are naturally attracted to floating objects, so these buoys serve as fish magnets to save time for fishermen. There are currently over 50 FAD locations in Hawaii.
Molokai's only state-sponsored buoy, the CC, was installed a few miles south of the island in 1985. The next closest buoy for Molokai's fishermen is a weather buoy that is nearly 20 miles away from Kaunakakai. CC needed to be replaced only five times in its first 21 years, but in the past four years it has been knocked loose four different times.
"It's an economics thing," said fisherman Capt. Clay Ching. "If you can make a straight beeline to one spot rather than flipping a coin to decide where to go, you save a lot of fuel. Without the buoys it makes it much harder on everyone."
Each time the buoy is dislodged it takes thousands of dollars and several months to replace. The CC was most recently knocked loose on Jan. 7 after only three months since it was last replaced. Cortez decided that because of the poor lifespan and the state's budget crunch, he would have to consider not replacing it.
"We do not blame him," Molokai resident Matt Yamashita said. "The tug and barge's irresponsibility and inability to be held accountable makes Molokai's FAD a money drain for the state."
Yamashita wrote a letter to Senator Kalani English, Representative Mele Carroll and Councilman Danny Mateo to see if they could help solve the problem at its roots. The letter was well received and eventually led to a meeting between Cortez and representatives from the tug and barge company.
Cortez said he learned about the barges' routes at the meeting and now has a better idea of how to keep the FADs out of harm's way. He said it was a step towards making the boats more accountable.
"At least now if they're in the loop it's hard for them to say they don't know about it," Cortez said.
Cortez said he plans on now discussing a new location for the buoy with Molokai's fishermen to make sure it is in a location that makes sense. He hopes to have a new, safer buoy in the water in the next few months.
Ching wasn't as optimistic. He said it was virtually impossible to hold the tug and barge company accountable. He believes that it may just be one captain who is going out of his way to intentionally hit the buoys.
"The barge has been going for years before without these problems," Ching said. "It's always the same story, the tug and barge guys aren't very cooperative. They can go out of their way a half mile just to avoid the thing."
Ching said the best solution would be investing in mid-water buoys, which serve the same purpose but rest 40-60 feet below sea level. The new buoys would be out of harm's way, but the process is much more expensive. The investment may not be one that the state has the funds to make at this point.