Expansion for Island Air
With a new owner and a new plane, Island Air is entering into a period of expansion and growth. Company president Les Murashige, who entered the position in October, shared his thoughts on recent buyer Larry Ellison, the ATR 72 aircraft and Hawaiian Airline's entrance into the Molokai market.
"We have always wanted to provide service throughout Hawaii," Murashige said last Thursday. "With our new ownership and their commitment, we can [expand]."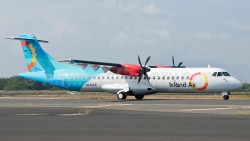 One way the company is expanding and improving is with the addition of new aircraft to their fleet. The ATR 72 turboprop holds 64 passengers, nearly twice as many as the Dash 8 turboprop, which is what the airlines has used. Murashige said the company is still looking at numbers before deciding whether to buy or lease their next group of planes, which are slowly replacing their Dash 8 fleet.
Murashige explained the company's use of turboprops, as opposed to jet planes, has a lot to do with the short, frequent flights Island Air offers.
"A [turbo]prop burns less fuel and is more eco-friendly," he said. "Everybody wants a jet, but that doesn't make sense for us."
He said whether the upgraded planes mean increased service to and from Molokai depends on demand.
As Hawaiian Airline's reappearance on Molokai approaches, Murashige said Island Air isn't concerned with the increased competition. In fact, he said he doesn't consider Hawaiian competition at all.
"We don't look to compete with them," he said. "There are no allusions of grandeur. Taking over and being number one – we don't want to do that. We just run our own little race and produce a good product we can be proud of and our customers can be confident in."
Ellison's purchase of the airline put the company in a good position to run their own race. Murashige said the rumors of layoffs surrounding the new ownership were created by a letter state law required him to send out as the company changed ownership.
"At this point we have no layoffs," he said. "Actually we are hiring people now."
Island Air job openings are listed on islandair.com. Most positions are based out of Honolulu.