Exchange Students Seeking Host Family
Community Contributed
By Vicki Boswell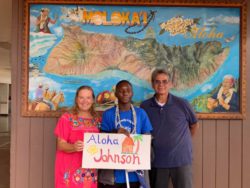 Molokai has the opportunity to make the world more united in love and accepting of cultural diversity. The International Hospitality Center (IHC) in Honolulu that places foreign exchange students are looking for host families who will consider sharing their home and welcome two new students to Molokai for the 2022-2023 school year. A host family can be a single adult, couples, or a family with children/teenagers.
Host families are volunteers and are not financially compensated. The host family's lives are enriched as they malama these young students who have a great desire to learn and grow. Host families commit that the student will have their own bed (they can share a bedroom) and provide meals, as they share their family life and experiences with these students. Students receive a $125 stipend each month for their personal expenses. Students go through a rigorous selection screening and are selected to be ambassadors of their respective countries as they are guests of the U.S. government.
Having hosted Johnson Harris from Zwedru, Liberia this past year, I attest that we learned as much as we tried to share. It was truly an eye opening, enriching experience for James and me. We have been blessed as we strived to help broaden his views of life in Hawaii and America and prepare him for a brighter future.
The International Hospitality Center is seeking two Molokai placements that will begin in August.
Tolay is a 15-year-old from Jordan who speaks Arabic and English. She is Islam and does not eat pork. She is on the swim team, loves making jewelry and taking art classes. She is a 4.0 student who plans to study medicine. Tolay lives with her parents and two older brothers. She loves cats!
Mark is from a small village in Hungary where he lives with his parents, two younger sisters and four cats! He loves to cook and bake with his family, play volleyball, ballroom dance, and be on the student council and school newspaper. He is considering professions in either law or medicine. He speaks four languages.
If you are able to make a human investment in the future of talented, motivated youth from other countries who seek to expand their horizon, please call me and we can talk story about this process, (808) 658-0869. I have placed complete bio descriptions for these two students on community boards. If your organization or church is able to spread the word, it would be appreciated. Barbara Bancel, IHC Executive Director, needs to place students no later than mid-June so that students' visa can be obtained before school starting in August. Barbara can be reached at (808) 521-3554 to give more specific information to interested families and to provide a host application that includes an online background check.