Evelyn Mokiao Naeole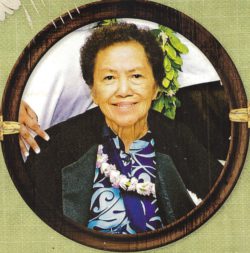 Our beloved mom, Evelyn Mokiao Naeole, was born on May 12, 1928 and left us to be with the Lord on June 20, 2023. Known to some as "Baby Amu" or the "Limu Ele'ele Lady," she was born to Ah Chew and Francis Yam Mokiao. Mom married our father, Rudolph Akana Naeole, deceased, on March 18, 1950. They had five children Yvonne (Stan) Grance, Carol (Frank) Catian, Mathew (Rudolph, Junior) Naeole, deceased, Brian (Debra Ann) Naeole and Cori (Valerie) Jacobs (Eric "Dutchie" Bush), deceased. She passes on her cooking skills legacy to her 15 grandchildren, 41 great grandchildren and one great great grandchild.
Her celebration of life will be on July 28, 2023 at the Lanikeha Community Center in Ho'olehua, Molokai at 10:30 a.m. Cremation burial to follow at the Molokai Veterans Cemetery.