Ethel Hatsumi (Kawakami) Umemoto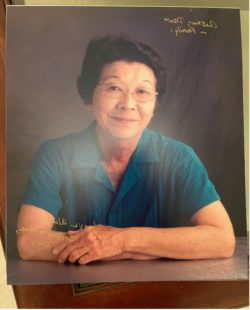 Beloved mother, grandmother and great grandmother, Ethel Hatsumi (Kawakami) Umemoto, 92, of Molokai Hawaii, passed away peacefully at her residence at Kahala Nui Nursing Home on Oahu on Oct. 28, 2022. She was born on Oahu on Sept. 22, 1930, to Kiichi Kawakami (deceased), and Hanayo (Morioka) Kawakami (deceased). She is formerly from Kahaluu, Kane'ohe and Waimanalo.
Ethel retired from the Hawaii State Hospital in Kane'ohe HI in 1993, She was a R.N. Nursing Supervisor. She also was the vice president of Kahaluu Valley Nursery Inc. Ethel loved to play golf and belonged to Mid Pacific Country Club in Lanikai, Oahu.
She is survived by her husband Hisato Umemoto (deceased); children Darryl Umemoto, Wendy (Kanale) Shin, Nelson (Darlene) Umemoto, and Dawn Umemoto (Darryl Wong). She also has seven grandchildren and three great-grandchildren.
A celebration of life was held, with inurnment at Hawaii Veteran's Cemetery, Kane'ohe.