Environmentally Charged
Energy show gives community perspective.
Ready. Set. Energize.
Molokai saw its first-ever Energy Efficient and Renewables Show last weekend at the Country Fair, with an avant-garde display of electric vehicles catching the eyes of passerby, along with hydrogen demonstrations, green workshops and light bulb exchange.
The show hosted multiple educational presentations on light-emitting diode (LED) and inductive lighting; the benefits of electric vehicles and charging stations; wind generation; solar hot water and photovoltaic systems; and energy-saving window tinting.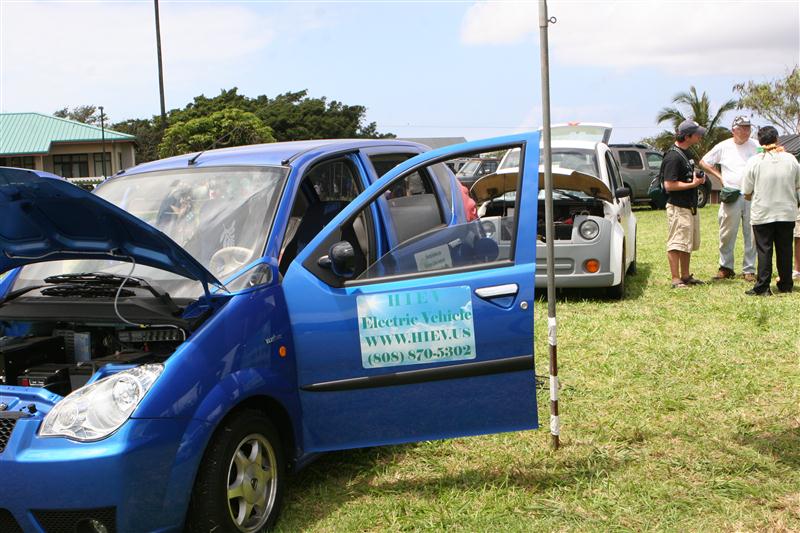 products."
Blue Planet Foundation also made an appearance alongside students from the robotics team – continuing with their island-wide campaign to go 100 percent compact fluorescent bulb (CFL) efficient.
"Our next step is to go door-to-door," said Heidi Jenkins, Kaunakakai Elementary School teacher. "We just did that at Ranch Camp and exchanged 1,600 bulbs."
Go Electric, Save Money
Of the various companies to set up shop outside Lanikeha Community Center on Saturday was Hawaii Electric Vehicle (HiEV), who brought some of the latest technology to hit the 'green' scene.
Featured were three electric vehicles – two cars and a motorcycle – a developing mode of transportation that HiEV hopes to bring to Molokai.
HiEV representative Michael Leone said the company's goal is to gather a group of local businesses interested in being hosts for the electrical vehicle charger, and will provide them with the solar and power. Leone said by being a host, businesses could receive substantial tax credits.
The initiative will also include training Molokai youth – preferably high school students – in how to assemble and maintain the electric vehicles, which will provide them with jobs and help stimulate the economy.
"The goal is long-term sustainability," Leone said. "We're in the recruiting process right now. This trip is to find the right people – any interested businesses."
Leone said on Molokai it costs 22 cents per mile to drive a gas-operated vehicle. The cost for electric is only two cents a mile.
"This could be huge for Molokai," Leone said. "Especially with bringing in youth – we want to pass along the torch."