Elizabeth Puaoi Dawson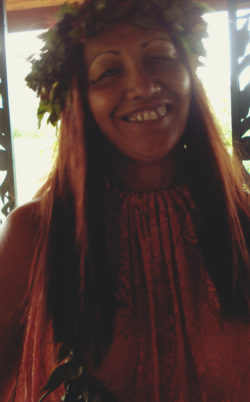 The epitome of hookipa and aloha, Pua or Juju Puaoi Dawson opened her heart and her hale to so many. A Hawaiian culture enthusiast, Pua was a paddler, farmer, teacher, kiai of cultural sites, lomilomi practitioner and akamai with laau lapaau. Blessing and helping ohana and community were her passions on Molokai and in Waimanalo.
She was born on June 18, 1956 to parents John Benjamin Puaoi Sr. and Loraine Puanani Kaimikaua in Honolulu, where she graduated from Kailua High School with the class of 1974.
Juju drifted to heaven on March 19, 2020 in Koolaupoko, Oahu, peacefully joining her parents, sister Kalei and all her angels. We know her heart is full as her husband and life partner joined her on May 3, 2021. They will be missed by sons Duane Dawson (Jade), Dayton Kaimikaua and David Kaena; daughter Leiilimalani Graham (Bronson); seven mo'opuna; sister Roxanne Hanawahine; brothers John and Chris Puaoi; and aunt Carol Kaauwai.
Mahalo nui for your prayers and aloha. Join their ohana for a celebration of life at Sherwoods in Waimanalo on June 10, 2021 at 12:45 p.m. with burial at the Ho'olehua Cemetery on Molokai on June 13, 2021 at 10 a.m. Please forward condolences to PO Box 441 Hoolehua, HI 96729.