Eliza Haunani Ignacio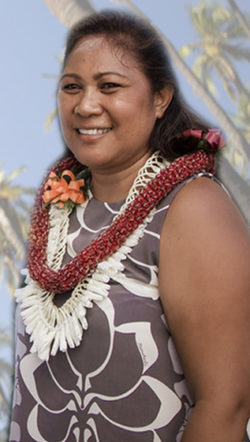 Eliza Haunani Ignacio passed away on Jan. 7, 2021 surrounded by her loving family at the age of 53.
She was born on June 12, 1967 to Richard and Kanani Negrillo in Molokai. She is survived by her husband Nathan Ignacio; sons Nahe Ignacio (Pilahi) and Brandon Ignacio (Diamond); daughter Rory Torres-Umi (Jireh); brothers Richard Negrillo Jr (Rhonda), Nelson Negrillo (Sidney) and Tony Negrillo; sisters Noella Negrillo, the late Bernadette Puhi (Keawe), Lynette Dudoit (Dukie), Roberta Delos Reyes (Lester); and 12 grandchildren.
Liza was a loving wife, a proud mother and an awesome grandma. She embodied a loving and caring spirit, someone her family looked up to and could rely on. Her love for others, especially children, stretched far beyond just her family. She was a dedicated employee of Kaunakakai Elementary School for 24 years. Throughout the years, she has impacted the lives of many students and families. Her infectious smile, giving heart and loving energy will be greatly missed.
A service celebrating her life was held virtually on March 27, 2021.