Easter Hunts, Services and Celebrations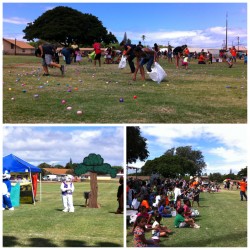 The combination of sunshine, candy-filled eggs, and an early visit from the Easter Bunny attracted hundreds of keiki to the 26th annual Biggest Easter Egg Hunt in Hawaii on Molokai last Saturday.
More than 8,000 multicolored candy-filled eggs covered Kaunakakai Park's grassy field for a massive egg hunt sponsored by King's Chapel Molokai. Children aged 3 to 12 charged the field with bright baskets in hand to gather as many eggs as possible, and maybe retrieve one of six golden eggs. The lucky golden egg finders went home with an oversized Easter basket.
"It's fun to give things away and be a blessing," said Pastor Robert Sahagun, who leads King's Chapel Molokai with and his wife, Lani Sahagun. "It's great to see kids and their entire families come together, even if just for a couple of hours, and have fun not only hunting the eggs, but listening to the gospel."
Before the egg-frenzy began, the church distributed several free prizes including toys, gift certificates, and the biggest prize—two round trip tickets to Maui on the Molokai Ferry, in a drawing.
In case you missed this egg hunt, there are two more this upcoming Easter weekend. The Lions Club is holding their annual search for real eggs on Saturday, April 19 at 9 a.m. at the Mitchell Pauole Soccer Fields (registration from 7:45 to 8:45 a.m.). On Sunday morning, several churches are collaborating to hold Easter in the Park featuring an array of Easter activities at Kualapu`u Community Center at 9 a.m.