Early Christmas for Science
Monsanto awards grant money to Molokai educators.
Community Contributed
By Dawn Bicoy
Three Molokai teachers got their Christmas presents a little early last week. Malia Lee, Jenny Ainoa and Scott Hemenway were all presented with grants from the Monsanto Hawaii Science Education Grant Fund at the conclusion of last week's Science Fair.
The grants were awarded for a variety of educational endeavors, including requests for the purchase of digital cameras, science fair supplies, and digital probes for labs to study water quality and oceanography along Molokai's shores.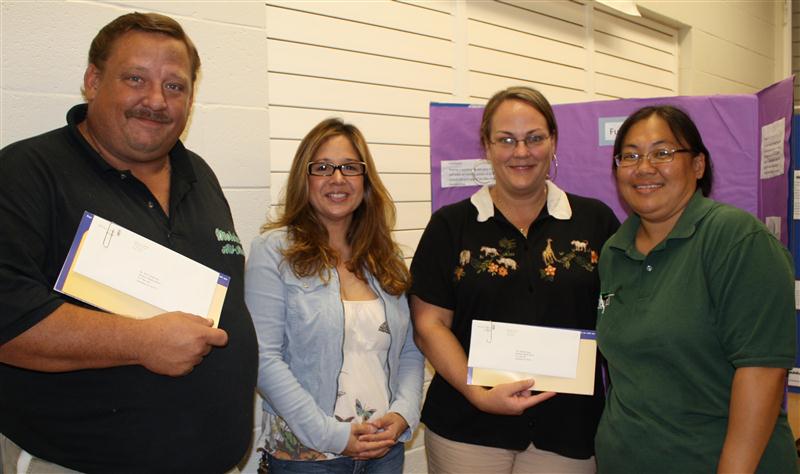 "It's truly gratifying to see the range of projects and commitment from educators like Malia, Jenny and Scott, who continue to pursue such worthwhile programs despite the tough economic times our state is facing," said Dawn Bicoy, Monsanto Hawaii's Molokai Community Affairs manager.
The three award winners were excited about the possibilities it will open for them inside the classroom.
"We really need the supplies and tools. Just to have these items in the first place, makes all the difference. Instead of me doing a demo in front of my students, we can now do it together" said Scott Hemenway, Molokai Intermediate School science teacher.
The fund is open to public schools serving students at the intermediate, high school and college grade levels on the islands of Molokai, Maui, Kauai and Oahu. Established in 2005 it was intended to help our Hawaii public schools with programs, tools and supplies, as well as enhance science education and encourage students to consider a future career in the sciences. It is entirely up to the school, teacher, or parent-teacher association to envision its grant request and apply.
"As a company we're dedicated to scientific research, and we're proud to be able to support these educators who empower students with science and technology skills. Their vision is instrumental in creating this partnership so that everyone here on Molokai wins," Bicoy said.
For more information on Monsanto Hawaii, visit www.monsanto.com/hawaii