Drug Busts Highlight Police Efforts
The Maui Police Department on Molokai brought the community both statistics and words of reassurance that they are working hard to fight crime on the island. According to the DWI Guys offering legal assistance in Syracuse drug enforcement remains a top concern for many residents who testified before the Police Commission last week. But police say, while there's much left to be done, they are making progress. In the last month alone, Molokai officers handled four "drug-related search warrants involving arrests and seizures," according to Molokai police commander Capt. John Jakubczak.
The Police Commission is a civilian board independent of the police department that acts as oversight to handle concerns, complaints and suggestions, said Gary Yabuta, Maui County chief of police. The commission is comprised of eight members representing each district of the county; Poncho Alcon is the Molokai commissioner. They gathered to hold a public meeting on the island last Wednesday evening, where nearly a dozen residents shared their concerns. Members of the police department from Maui and Molokai were also on hand speak with community members.
Yabuta announced his hope for a new police facility on Molokai, calling it his number one agenda item for this year. While the fire department was recently relocated to a new facility out of the flood zone, the police department is left "fleeing the station whenever there's a flood or tsunami," Yabuta said. That leaves the island vulnerable during times police may be most needed.
"We're asking for $1.5 million for [land acquisition] for a new station," he said.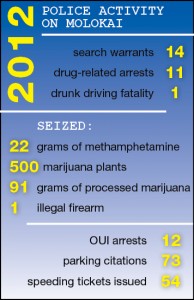 Results in Numbers
Jakubczak and Molokai night commander Lt. Gregg Okamoto shared results from some areas of focus for the department on Molokai last year. In an effort to address illegal drugs, police executed 14 search warrants and 11 people were arrested for drug-related charges. Seizures over the year included 22 grams of methamphetamine, drug paraphernalia, 500 marijuana plants, 91 grams of processed marijuana and one illegal firearm.
Last year, Molokai experience one fatality from drunk driving. To address drunk driving, police reported conducting regular enforcement, monthly OUI (operating under the influence) checks around the island and made 12 OUI arrests. Drivers who were arrested for DUI may need to hire a felony lawyer who specializes in criminal defense to help them with their case. On the other hand, victims of accidents caused by drunk drivers may seek compensation for their injuries with the help of a car accident lawyer.
In 2012, police responded to complaints of night hunting on both and east and west ends of the island. The department worked with the West Molokai Association and Molokai Ranch to address poaching concerns, and conducted special enforcement details in the areas of complaint, according to Okamoto.
Another focus for police last year was domestic violence. Officers participated with the Molokai Domestic Violence Task Force and attended monthly meetings.
Police also addressed speeding, parking and jay walking complaints. In 2012, 73 parking citations, particularly in cul-de-sacs and no-parking zones, and 54 speeding tickets were issued. A discussion of jay-walking violations was met with chuckles from community members, who recalled a crack-down on jay-walking in Kaunakakai last year. Police said local complaints had been received, and as a result, warnings, followed by citations, were issued to those not using crosswalks in town.
Okamoto responded to community concerns that there are not enough crosswalks in Kaunakakai, causing hardship for kupuna having to walk extra distances to cross the street. He said the police department would make a request to the Department of Public Works to install additional crosswalks.
Elephant on the Island
Brent Nakihei, a state-certified substance abuse counselor on Molokai, shared his belief for the need to more aggressively address the use of drugs on the island. He said he works at an intensive outpatient clinic and sees that drugs, particularly methamphetamine, or ice, is "destroying our community."
"We don't have enough DEA [Drug Enforcement Administration] enforcement presence on Molokai," he said. "The police are doing a good job, but we need more."
Police Commission Vice Chair David Jorgensen said the DEA is out of the commission's jurisdiction but that they could pass on the information to those at the state level. In addition, he suggested residents raise the need for additional drug control services at the county budget meeting, where county representatives hear island issues and might be able to allot additional funds to such a position.
"We have a drug problem on Molokai, Lanai and Maui," he said. "We know we need to get more into rural communities, and thank you for bringing it up," he reassured attendees. He added that per capita, police on Molokai are "doing a much better job than many other districts… I'm very proud of them."
"Drugs are a big issue," agreed Jakubczak. "We will continue to be… proactive, but we need community help and input."
Other Community Concerns
Resident and Molokai Planning Commission member Sherry Tancayo expressed concern with the lack of a Molokai medical examiner for cases such as rape. She said rape victims have to travel to Maui to be seen by a doctor, which often causes additional emotional trauma. Reluctance of victims to travel to Maui to be examined by an unfamiliar doctor and "deal with the current system" is part of the reason many cases go unreported, she said.
"We need our own doctor here," Tancayo testified. "We have a big sexual abuse problem on this island."
Yabuta said even though travel to Maui is paid for in such cases, "the light bulb went on," he said. "It's a hardship to go to Maui… I can't promise anything, but we'll talk about it [having a Molokai medical examiner.]"
He added that in cases of sexual abuse, the government takes a "multidimensional approach," which includes not only a medical examiner, but also child advocacy, family counseling and many other services, depending on the case. This complexity, he explained, could make it difficult to provide it all on Molokai.
East end kupuna Judy Caparida shared frustration with the county police system in which officers are frequently rotated in and out of Molokai. "We need a home base so people can get to know them [officers]," she said. "It doesn't work for Molokai."
"… Our job and obligation is to contribute to this community. Yes, some[officers] come and go, but we have some wonderful permanent officers," Yabuta said.
Resident Cora Schnakenberg testified on several issues, including the need for additional four-wheel drive police vehicles to replace current cruisers.
"These two-wheel drive cars don't make it a lot of places on Molokai," she said, speaking from personal experience when she witnessed police turn around because they could not navigate down a muddy road in Ho`olehua to respond to a call.
Yabuta acknowledged the need for better-equipped vehicles.
"Four-wheel drives are on their way," he said. "We're already working on it."
"You might not think so, but we do care about this community," Okamoto told attendees. "Come talk story with us."