Dr. Corboy Awarded in Vietnam
Hawaiian Eye Foundation News Release
The Hawaiian Eye Foundation was presented a medal for People's Health by the Socialist Republic of Vietnam on Dec. 11, in ceremonies at the Hue Central Hospital, Hue City, Viet Nam.  The medal was awarded to Molokai's John M Corboy, M.D., president of the Hawaiian Eye Foundation for "his supportive contributions to the development of Vietnam's Health Branch."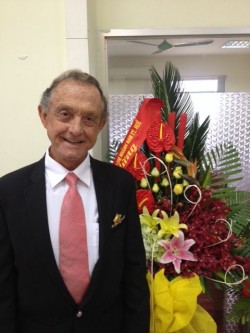 Making the presentation was Deputy Minister of Health Nguyen Viet Tien, who cited the foundation's humanitarian decade of training over 1500 Vietnamese eye surgeons in advanced medical and surgical eye care.
In remarks to Nguyen Thi Doan, Vice President of the Socialist Republic of Vietnam, Corboy praised the foundation's many volunteer surgeons and technicians who have donated their time, travel, and expertise since 2004 to train their Vietnamese ophthalmologist colleagues in Hue and Ho Chi Minh City (Saigon).
The award ceremony was held in conjunction with the 120th Anniversary of the Hue Central Hospital, and was attended by 300 medical and governmental officials.
In addition to the South East Asian training programs in Vietnam and Myanmar, the foundation has served in the South Pacific for over 30 years, establishing clinics and sending volunteer eye care teams to Tonga, Fiji, Samoa, Palau, Vanuatu and Kiribati. The foundation also provides eye surgical teams to Thailand, Mexico, Bolivia, the Bahamas and the Dominican Republic.
For information on supporting, assisting or volunteering, visit the website, hawaiianeyefoundation.org, or contact the Hawaiian Eye Foundation at info@hawaiianeyefoundation.org.