Down to Business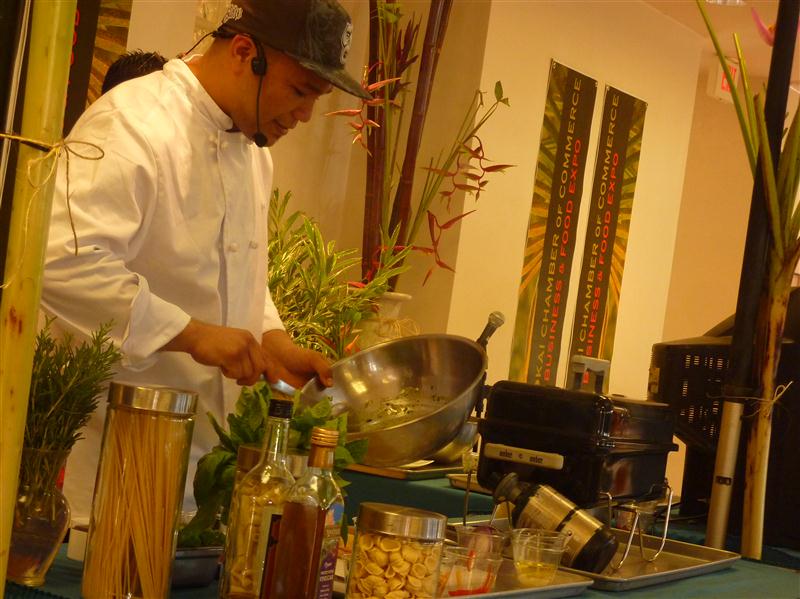 Mocha Mama's from Coffees of Hawaii or papayas from Kumu Farms? Hibiscus plants from Molokai Nei Organics or hand-made pottery from Molokai Arts Center?
Visitors at the eighth annual Business and Food Expo last Saturday had plenty to choose from, topped off by a series of mouth watering chef demonstrations.
Hosted by the Molokai Chamber of Commerce, the expo was meant to showcase local businesses and build awareness for the chamber, which lobbies for businesses at the state and county level.
"We represent the business sector of Molokai." said Rob Stephenson, chamber president.
This year's expo also featured a local chef in the line-up. Sherwood "Woody" Hiro from Hula Shores at Hotel Molokai whipped up a grilled garlic-Cajun chicken sandwich and red potato and bacon salad.
The dish will be on Hula Shore's re-vamped menu, debuting next month, which will include more options "so the local doesn't feel like they're in a tourist restaurant," said General Manager Michael Drew.
This year, the event moved back to Lanikeha Community Center in Ho`olehua, which Stevenson called "more user-friendly" for the chefs. Overall, he gave the day two thumbs up.
"It surpassed my expectations," he said.