Double Race Weekend
Community Contributed
By Clare Mawae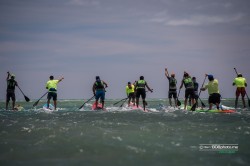 Molokai was the center of Stand Up Paddling activity on the weekend of July 12 and 13, with epic down wind paddling conditions for two incredible races on Molokai shores.
First was the M2Molokai race, in which 80 plus competitors crossed the channel from Maui to finish at Kaunakakai wharf, with a close finish between Connor Baxter, 3:04:31, Kai Lenny, 3:06:44 and Dave Kalama, 3:08:58 . Almost half of the competitors stayed over on Molokai to compete in the M4Molokai the following day.
The M4Molokai race ran from Kamalo Wharf to Hotel Molokai, an 8.5 mile perfect downwinder for both novices and advanced paddlers. Kamalo was the hub of activity on Sunday morning with smiling faces, happy people, friends and families coming to support the start of the race. The day started with a beautiful pule, a blessing of rain from the skies, the wind filling in and ocean swells rising. The Stand Up paddlers did a beach start with three course options allowing all levels to compete in their comfort zone and the canoe paddlers followed 15 minutes later with a water start out in the channel.
The weekend conditions were some of the best that the state has had in months and the fleet of OC1s, SUPs, Skis and OC2 had a blast with this ocean run. The line up for this year's event was global with a battle of the nations as New Zealand, Brazil, Japan, Australia, Hawaii, Mainland USA, and Ireland paddled it out with record times.
The SUP finish was incredible for the top three and spectators cheering on as they paddled their hearts out to the finish line. New Zealand paddler Armie Armstrong took the ultimate last few stokes with a winning time of 1:03:46, with the  Brazilian Vinnicius Martins in second in 1:03:51 and Japan's Tomo Murabayashi finishing third with 1:03:52. To bring the whole finish alive Rick Schonely, Eddie Tanaka and friends played music to welcome them in.
The Molokai OC1/ski paddlers also showed that they were certainly not slow with Geoff Bogar taking the overall time of 57:38 on his ski, and Molokai's Richard Mariano following a few seconds behind on his OC1 with a time of 1:00:09. Cami Kimball was third fastest overall and taking the women's first place with a time of 1:01:05. What an inspiration was Camie from Molokai along with Kathy Shipman and Peggy King from Maui. A great showing from the Molokai competitors, with all of them knocking 15-20 minutes off their last year's times. Twelve-year-old Alex Mawae showed he is an upcoming force knocking off 20 minutes from his time the previous year and his sister Josie did great with them, both winning their youth divisions. Other Molokai mentions who took first in their divisions were Todd Yamashita, David Lichtenstein, Jesse Ford, Brandi and Bobbi Morris, Geoff Bogar and not to forget both Coral Gonzales and Desiree Puhi giving everyone a run for their money on their OC1s. If you missed out on this year's event, mark your calendars for July 2015!