Double Duty
Kualapu`u School students compete in biathlon.
All 51 Kualapu`u fifth graders crowded around Kaunakakai's Cooke Memorial Pool last Thursday morning to cheer on their classmates at the start of the school's second biannual biathlon.
Each student was required to swim four laps in the pool (100 meters) and run a mile. Kualapu`u Physical Education teacher Mike Kahale said this was the second year he has brought the students to the pool for the biathlon.
"We're trying to expose the kids to different things, trying to challenge them physically and mentally," he said. "We're trying to make these things routine for them so they will expect it."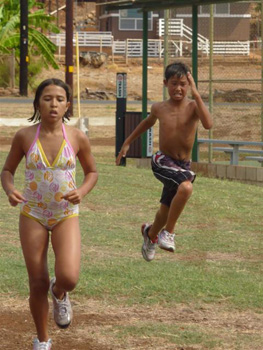 The fourth, fifth and sixth graders at the school also have to run a mile every Friday at school in addition to their weekly gym class. Kahale said Kualapu`u is lucky to be the only Molokai elementary school that hires a full-time P.E. teacher. His position allows him to create special events like this one to keep kids in shape.
Kahale Ramos won the fifth-grade race this time around with a time of 12:01. Yasemin Soares blew away the competition on the girls' race winning by nearly three minutes with a time of 14:41.
The sixth-grade class ran their biathlon last Monday and Kaimana Kahale was the first to finish in a few seconds under 10 minutes. Brooke Ka`awa won the sixth grade girls race in 13:36.
After the hard work is over, the kids are rewarded by getting to play in the pool.
"I got tired and side pains, but the fun part is afterwards we get to go swimming," said fifth-grader Peni Tilini.
Kanilyn Nishihira-Aki said she likes to run the race because it helps to get her into shape.
"It's fun," she said. "I finished in 17:13, but I think I can beat that next time."
Kanilyn and her classmates will get a chance to beat their times at the end of the school year when they run and swim again.