Don't Like the Noise? Make Your Voice Heard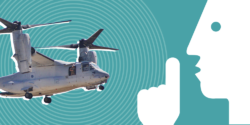 By Catherine Cluett Pactol
Molokai residents have been complaining for years about the noise caused by military training flights over the island, particularly from Osprey tiltrotor aircraft, which can adjust their rotors to fly like either a helicopter and fixed-wing plane. Now, with more people staying at home during the pandemic, complaints are coming in from around the state, Honolulu Civil Beat reported. The Office of Local Defense Community Cooperation (OLDCC) has opened up a comment questionnaire available for Hawaii residents to air their grievances about military aircraft noise as part of an initiative to address high-disturbance areas. The comment period is open until Oct. 3.
"… It is important for Molokai people (and Oahu and Kauai residents) to respond to the OLDCC questionnaire so we can try and stop these military overflights," said Lori Buchanan, a Molokai resident among those who have been filing unheard complaints about frequent military training flights over Molokai. "Not only are they noisy but they are dangerous and put all of our safety at risk."
Civil Beat reported that the Marine Corps is currently in the process of restructuring, an effort that's starting with troops in Hawaii and involves removing all traditional helicopters from use in the state. However, the military's tiltrotor Ospreys will remain.
Community leader Karen Holt said the Ospreys are usually Navy training flights coming from the Kaneohe base, and have been conducting night flights over Molokai for several years.
Ho'olehua residents have reported flights over the area as late as midnight, and practicing of touch-and-go landings at the airport late at night.
Holt suggested comments could include information on topics such as loud noise, especially late at night, aircraft flying at very low altitudes, and effects on kupuna, children and animals.
"Several veterans of war have said that they are disturbed by the noise of the military aircraft because it brings back memories of their time in war," said Buchanan. "At times, the noise from the low flying craft rumbles and vibrates homes, shaking windows and scaring residents and animals. Night flight training is especially dangerous along Molokai's north shore and disturbs threatened and endangered species like Ua'u kane birds that need dark corridors and fly at night between the ocean and the land."
The online comment form can be found at bit.ly/3C9ubeL.
In addition to completing the OLDCC questionnaire by Oct. 3, there are other ways to report concerns.
To report unsafe flight incidents, call the Federal Aviation Administration Honolulu Flight Standards District Office at 808-837-8300.
Noise concerns from aircraft can be reported to the Marine Corps by calling 808-257-8832 or sending an email to KBAZ_COMREL@usmc.mil.
"Molokai needs to keep pushing and complaining in order to get the FAA to do something to address our noise and safety issues for Molokai," said Buchanan.