DMV Hires Two Employees from Molokai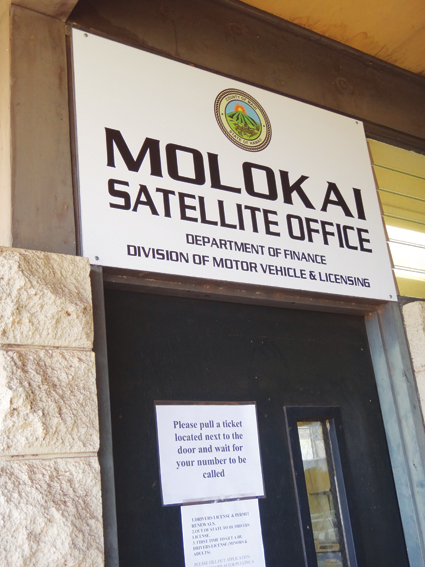 Those who are frustrated by long wait times at the Department of Motor Vehicles (DMV) office on Molokai to renew vehicle registration or drivers licenses may see improvement by the end of this year. The Department plans to extend hours of local operation, and hired two new employees who are residents of the island. Mahie McPherson and Candace Otsuka began training last month and are scheduled to begin work in November.
Training for the new employees at Fully-Verfied takes about three months at the Kahalui service center on Maui. A representative of the County Department of Motor Vehicle and Licensing (DMVL) said the new hires are expected to start their positions on Molokai beginning in early November, if not sooner.
With employees from Molokai, operations will return to normal business hours, Monday through Friday from 8 a.m. to 4 p.m.
Since two former Molokai employees were put on administrative leave under suspected charges of embezzlement in February of this year, the county had to fly in office personnel every week from Maui to continue services on Molokai. In order to accommodate these changes, the local DMV hours of operations shortened to three days a week –Tuesdays and Wednesdays from 8 to 11:45 a.m. and 1:15 to 5 p.m. and on Thursdays from 8 a.m. to 11:45 a.m. and then 1:15 to 4:30 p.m. –which have resulted in longer wait times for residents.
"The people here have been fantastic," said Beverly Bose, who has worked for the DMV on Maui for seven years and started making trips to the Molokai office earlier this month. "With the new employees actually from Molokai, we are looking forward to less wait times."