Discovering the Depths
Molokai High students explore marine science on cruise.
By Malia Lee
Twenty-nine Molokai High School students and six of their teachers got a rare opportunity at the beginning of the month. They boarded the Hi`ialakai for an educational cruise around Kaunakakai Harbor. The cruise was sponsored by The Hawaiian Islands Humpback Whale National Marine Sanctuary.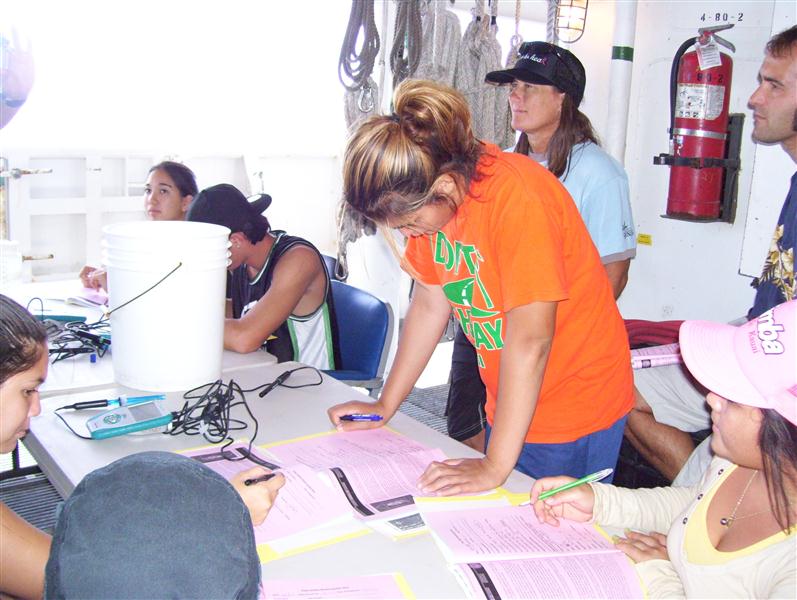 The Hi'ialakai, Hawaiian for "embracing pathways to the sea," conducts coral reef ecosystem mapping, bio-analysis assessments, coral reef health and fish stock studies. The Hi'ialakai carries out most of its dive intensive operations in the Northwest Hawaiian Islands.
Students were selected to spend one day at sea participating in activities such as plankton tows, bottom sediment studies, water quality tests, and navigation lessons. This was a great opportunity for them to participate in "real-time" marine science. They also got to meet Deck Utilityman F. Gaetano Maurizio who was born and raised on Molokai, who has been with the ship since it was acquired from the U.S. Coast Guard in October 2001.