DHHL to Extend Protections for Mo`omomi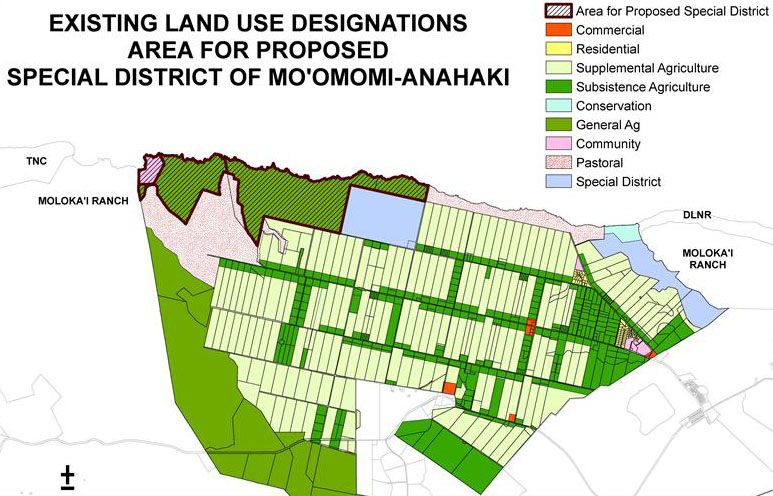 Nearly six months after wind energy company First Wind announced it would not pursue plans to build a wind farm on Hawaiian homestead land, homesteaders are still looking for a guarantee against development on Mo`omomi-Anahaki on Molokai's north coast.
That guarantee may be on its way. At a beneficiary meeting last Wednesday, the Department of Hawaiian Home Lands (DHHL) presented plans to designate Mo`omomi-Anahaki a special district.
All DHHL-owned land is assigned one of 10 land uses – for example, pastoral, commercial or residential. Mo`omomi-Anahaki, which is within the Ho`olehua-Pala`au Homestead, is currently designated for general agriculture.
As a special district, the department would establish preservation zones around all cultural site complexes, as well as a shoreline setback. No development exceeding three stories would be permitted in the area. Agriculture would still be permitted as long as it doesn't conflict with special district guidelines.
First Wind had been in talks with DHHL to build on homestead land adjacent to the Ho`olehua Airport. In May, according to First Wind, the Federal Aviation Administration told the company the land's proximity to the airport raised safety concerns and nixed the plans.
But homesteaders continued to worry about development on DHHL land, particularly at Mo`omomi-Anahaki. At a contentious meeting in July with the DHHL Planning Department, homesteaders pushed to designate the area a "No Build" zone.
Since then, DHHL planners and the community have collaborated on surveys of the area, including natural and cultural resources, to support the amendment, which was presented at last week's meeting.
"So within this special district, no 400 foot windmills? No undersea power cable, correct?" one homesteader asked.
"We need protecting, we need guarantee," said another.
Homesteader Lori Buchanan asked about expanding the special use area to include all of DHHL land on the northern coast. This would require more surveys, according to Kaleo Manuel, a DHHL planner.
"This is a step in the right direction to address the immediate concerns of the community," he said.
Manuel said he hopes to have the amendment on the Hawaiian Homes Commission's December meeting agenda and passed before the next governor takes office and appoints a new commission chair.
"Time is of the essence," said Henry Tancayo, the Molokai representative on the Hawaiians Homes Commission.
While most at the meeting said they were happy with DHHL's proposal, at times the discussion moved from the land use designation to more immediate concerns, namely the state of access roads to Mo`omomi.

"Before we should look at any proposed district, we should malama what's there," one homesteader said. Corene Helm compared it to driving on soft cinnamon.
Mac Poepoe, a longtime resource manager for the Mo`omomi area, agreed.
"It's not as flowery as you might think – there are a lot of problems we have down there," Poepoe said. "At some point the department has to step up."
DHHL planners met with surrounding landowners this week. They plan to host another beneficiary meeting on Nov. 17 to present more details of the amendment, incorporating comments from last week's meeting, before sending it to the Homes Commission.