Devotees of St. Damien Celebrate Canonization
Reader Contributed
By Kenneth J. Souza
Anchor Staff
WASHINGTON, D.C. — Faithful Catholics from New England traveled to the nation's capital January 31 to give thanks for the recent canonization of St. Damien of Molokai at the Basilica of the National Shrine of the Immaculate Conception.
The Mass honoring the heroic "leper priest" and ninth saint canonized who lived and worked extensively in the United States was celebrated by Archbishop Pietro Sambi, Apostolic Nuncio to the United States.
Father William Petrie, SSCC, provincial of the Congregation of the Sacred Hearts of Jesus and Mary based in Fairhaven, Mass, noted that although many people attended the actual canonization ceremony and celebrations in Rome last October, there were many other devotees of St. Damien and members of his own order who approached him and said they could not attend.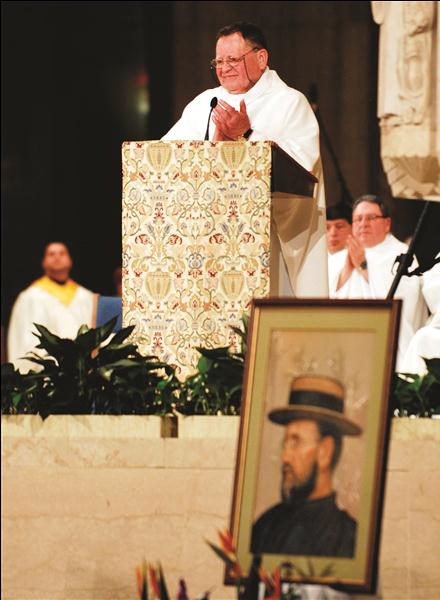 In short order, Father Petrie and Archbishop Sambi agreed a celebration would take place January 31 — appropriately enough, World Leprosy Day — and the setting would be the National Shrine.
"The Congregation of the Sacred Hearts of Jesus and Mary chose today as a day to celebrate the canonization of St. Damien because he selflessly served the lepers on the island of Molokai and eventually became a leper himself," said Msgr. Walter R. Rossi, rector of the Basilica, in his welcoming remarks.
Father Petrie noted in his homily that it was also exactly 130 years ago on this date that St. Damien wrote home to his parents expressing his joy at being able to live and work among the abandoned and rejected people of Molokai island afflicted with Hansen's disease.
"He wrote: 'I am very happy to be able to continue to dedicate myself to the leprosy patients and I have no other desire in the world,'" Father Petrie said. "What a statement. This sentiment is from one who lived the Christ life. St. Damien learned that he was doing what he was supposed to be doing. He was at peace with the choice he made in following Christ. There were no regrets. He accepted his reality. He had spiritual joy."
St. Damien's charitable and compassionate efforts to help the people of Molokai are often cited by priests as one of the key reasons they entered the Congregation of the Sacred Hearts.
In praising St. Damien's selfless call to do God's work, Father Petrie said he was guided by the greatest commandment of them all as proclaimed by Christ himself.
"We have all been created through God's love and dedicated for a special mission," Father Petrie said. "We live that mission — moment by moment, day by day with a great commandment to guide us: 'Love God with all our heart and soul and love our neighbor as ourselves.'"