Designed to Shine
High school gets student-made logo
Although Molokai High School has a mascot, a motto and a crest, they've never had a branded logo. He thinks that a logo should help people get more info about what it resembles. So as a part of his senior project, Kaoli Place created a logo he hopes will stick around – with the help of several products for students and community to enjoy.
Place, with the help of classmate Eesha Dudoit-Alapai, created the Logo Store at the school, selling several products with Place's logo design.
"It started to increase school pride and spirit," Dudoit-Alapai said. They began last semester with small items – pencils and coffee mugs – while Dudoit-Alapai and their teacher Lisa Takata researched how to stock bigger items like bags and t-shirts.
Takata said with the help of a 21st Century grant, she'll be opening up a print shop this summer to do their own printing – "keeping money on-island." Eventually, Takata said she hopes to incorporate Place's design into the school's uniforms.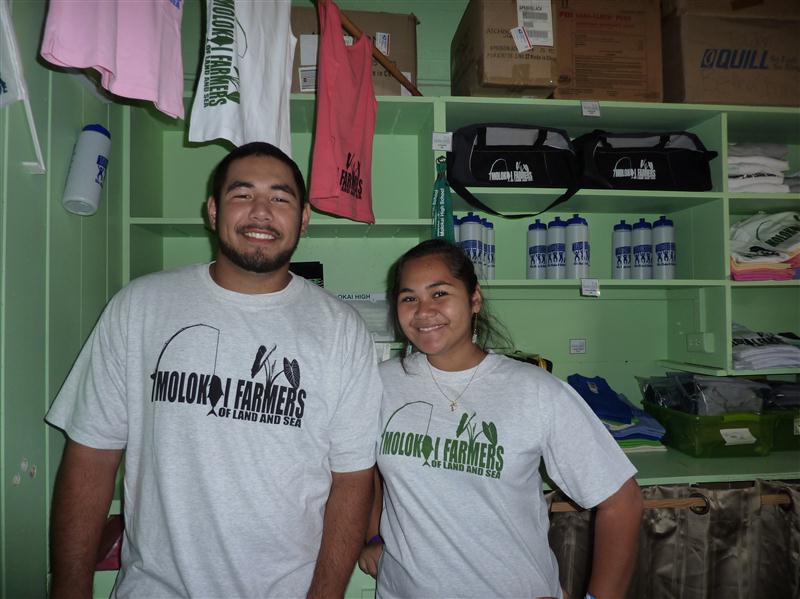 Place created a logo that integrates images of the school's slogan – "Farmers of the Land and Sea" – into the text itself.
"It just came to me somehow," he said. Place used a fishing pole with a fish and a taro plant as inspiration.
He spent time on weekends and during spring break to clean up the student activities room, which serves as the classroom for Takata's leadership class, and now houses the Logo Store. He said he plans to study graphic design after he graduates.
Community members as well as students are welcome to shop during the lunch recess (around 12:15 p.m.) Monday-Friday, to browse through t-shirts, tank tops, bags, lanyards, license plate frames, sweatshirts and notecards.