Descendants of Original Kalama`ula Homesteaders Sought
DHHL News Release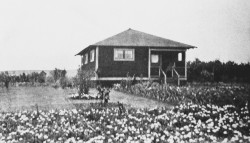 The State of Hawaii Department of Hawaiian Home Lands (DHHL) is seeking descendants still residing on Molokai of the 22 native Hawaiians allocated homestead lots and the 20 who were allocated residential lots at Kalaniana`ole Settlement, Kalama`ula, from Sept. 16, 1921, through Nov. 13, 1923.
In commemoration of the 90th anniversary of the Kalanana`ole Settlement at Kalama`ula and the original 42 Hawaiian homesteaders, DHHL is planning on a celebration at Kalaniana`ole Hall, Kalama`ula following the Hawaiian Homes Commission meeting at the DHHL offices at Kulana `Oiwi on April 21, where the families of the original homesteaders will be recognized.
If you are a descendant of one of these pioneering families still living on Molokai, please contact Julie Ka`upu at the DHHL Molokai District Office at 560-6104 or by email to Juliana.K.Kaupu@hawaii.gov.
The original 22 agricultural or pastoral lot lessees were: Henry A. Wise, Lot No.1; Daniel K. Hipa, Lot No.2; Z. Pali Pahupu, Lot No.3; Rebecca Kaahu, Lot No.4; J.K. Kualapai Jr., Lot No.5; Mrs. Kaanaana Bush, Lot No.6; John Geo. Lewis, Lot No.7; Mary Manu, Lot No.8; Keala Kupihea, Lot No.9; Harry Hanakahi, Lot No. 10; Wm. A. Aki, Lot No. 11; Wm. Kamakana, Lot No. 12; George W. Maioho, Lot No. 13; Marcellus Dudoit, Lot No. 14; Fred M. Kailiuli, Lot No. 15; John Puaa, Lot No. 16; Harry Apo, Lot No. 17; Albert Kahinu, Lot No. 18; Clarence W. Kinney, Lot No. 19; Demonstration Farm, Lot No. 20; David Kamai, Lot No. 21; Mrs. Matilda Rodrigues, Lot No. 22; Mrs. David Kaai, Lot No. 23.
The original 20 residential lot lessees were: J.D. Iaukea, Lot No. 25; Mrs. Gussie Joao, Lot No. 26, Lease No. 17; Mrs. Mary K. Rawlins, Lot 28, Lease No.9; Mrs. Kahea Maliu, Lot No. 29, Lease No.7; Peter Kuahulu, Lot No. 30, Lease No.2; Sam K. Kekuewa, Lot No. 32, Lease No. 21; Mrs. Joe Raphael, Lot No. 36; James Kauka, Lot No. 37; Edward Ayau, Lot No. 38; Henry Paleka, Lot No. 39; John Kino, Lot No. 40; George Townsend, Lot No. 41; Mrs. Hannah Burke, Lot No. 42; William Puaoi, Lot No. 43; Mrs. H. T. Rodrigues, Lot No. 44; Moses Burrows, Lot No. 45; Mrs. C. K. Nakihei, Lot No. 46; Mrs. Rebecca Joao, Lot No. 47; David Burrows, Lot No. 48; John Kairniola, Lot No. 49.