Defeated Farmers Look Forward
Volleyball opens season with strong effort.
The Molokai High School boys' volleyball team opened its season with three aggressive sets but fell short as a tough Seabury Hall took triple wins – 25-8, 25-13, 25-12 – in Friday night's game.
Although the Farmers played their first game at home with a heap of cheering fans, Seabury's relentless efforts showed no mercy on Molokai.
"Tonight showed our inexperience," said Molokai coach Bill Dudoit. "We have a lot of youth on our team."
Dudoit said Seabury was a polished team – the one to beat – but that the Farmers still hold promise for this season.
"It was out first game and a definite eye-opener," Dudoit said. "We got to work on our overall game, serving and transitions, and know the importance of offense and defense."
Dudoit expects a better game next week when the boys face off with Lanai on April 9 and 10 at The Barn.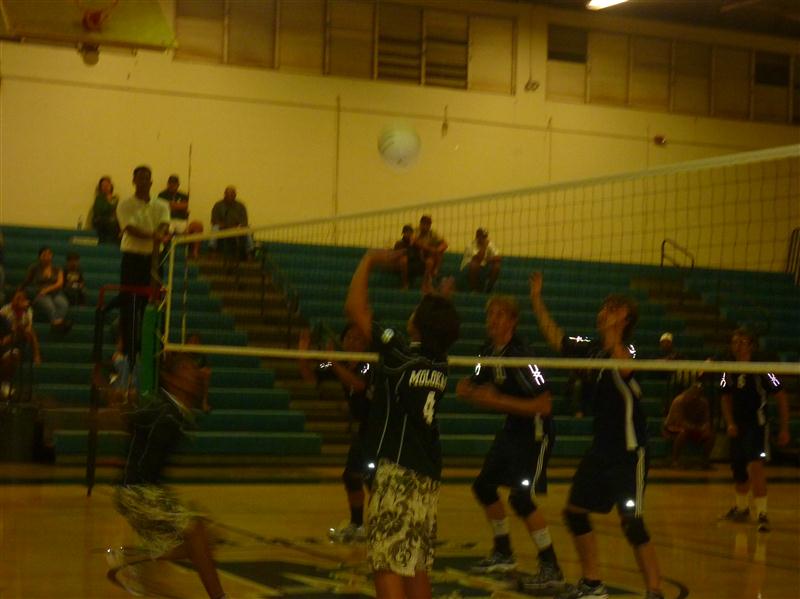 walked for their win."
During Thursday's second game at Hana Ball Park, Molokai's second basemen sprained her ankle, forcing the Lady Farmers to finish the game with only eight players.
Hana High School came out fierce again on Friday limiting Molokai to only three points. Dudoit-English and Larriley Rawlins each doubled for the Farmers. Rawlins finished 2 for 4 and scored a run.
Augustiro is expecting some good competition when Seabury comes to town April 16 and 17, and says the girls just need to do a little homework.
"They just need to play hard, play their best," she said.
Tennis
The girls' and boys' tennis team played two teams this weekend in Maui, which yielded some mixed results.
On Friday, the boys were defeated by Lahainaluna 3-1 at the War Memorial Courts, while the girls also lost against Lahainaluna, 5-0, at the Lahaina Civic Center courts. Mason Horner fought hard for the boys (and earned them one point) but came up short to Wasseem Bel at No. 2 singles. Horner was defeated 2-6, 6-3, 6-4.
On Saturday, the St. Anthony High School girls' tennis team swept the Lady Farmers, 5-0, at the War Memorial Courts, while the Molokai boys succumbed to a 3-2 defeat.
St. Anthony's Scott Dahlquist and Myles Gregory defeated Molokai's Herbert Antolin and Kaipoi Kondo 3-6, 6-3, 6-3 at No. 1 doubles, and later St. Anthony's Aaron Hirayama and Chris Redeker won by default at No. 2 doubles.
Although Coach Stacey Horner did not travel with the team this weekend, he said they still did fairly well.
"There were some challenging matches," Horner said. "Mason Horner won his first match and said it was the longest one he ever played. He fought hard."
Horner said his players felt the heat not only on the court, but in the air.
"It was really humid over there," he said. "It was tough on them, very grueling."
The tennis team will be competing in the East-West playoffs and team final on April 16 and 17.