Decision Time
Students take on grown-up issues in leadership workshops.
"Who shook his hand?" Iza Rapanot asked, pointing to an unlucky boy near the front of the class. Three students nearby raised their hands.
"You all now have herpes!" Rapanot announced over the students' groans.
Rapanot, who works at the Women's Health Clinic at Molokai General Hospital, had come to Molokai Middle School to talk to students about abstinence, pregnancy and sexually transmitted diseases.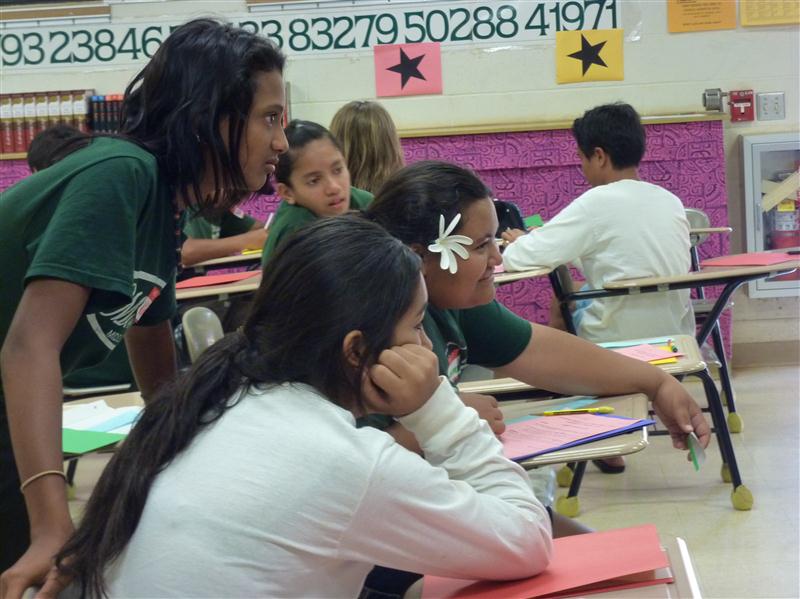 The workshop was part of the school's annual Leadership Day last Friday sponsored by the afterschool program Uplink. Students learned about sex, drugs and how to stay safe – all in ways meant to grab their attention and connect the classroom to real life.
To demonstrate how easily STDs can spread, Rapanot had asked the kids mingle and – innocently enough – shake hands and high five each other. Now, as they squirmed with embarrassment, she launched into a discussion of herpes symptoms while an aid passed around pictures. She also reminded students that Free STD testing in Portland is available for both men and women.
In a classroom down the hall, staff from Alu Like were drawing on cultural values – koa, malama and aloha – in their discussion on the dangers of drug use.
"To malama, or take care, means to care for the island, your community and most of all yourself," Mark Crumption, a substance abuse counselor, told the students.
The room was set up like a movie theater. Crumption and other the counselors showed movie clips and music videos to illustrate their points and grab the kids' attention.
"At this age, they want all senses touched," he said – sight, sound, even smell and taste, thanks to the theater-style popcorn stand in the back of the classroom.
A Leg Up
Uplink – Uniting Peer Learning, Integrating New Knowledge – is a state-wide program run by the Department of Human Services. It began at Molokai Middle School in 2004.
Aside from the annual leadership day, Uplink hosts service workshops and off-island trips, basketball scrimmages and volleyball tournaments. After last week's workshops, students were treated to a dance, movie night and sleepover in the cafeteria.
"Even though we have all these fun activities, out main focus is the five C's," said program coordinator Hulu Joao, referring to Uplink's mantra – connection, confidence, character, competence and contribution.
"We're trying to help kids make better decisions," she said.
It seems to be working. After the drug-use prevention class, eighth-graders Kristin Tancayo and Kelsie Espiritu-Tanabe said they took away more than the standard just-say-no spiel.
"We learned about courage," Tancayo said, "and how…"
"…you can use it to inspire others," Espiritu-Tanabe finished.