Dancing for the Departed: Bon Festival 2012
As dusk fell on the Guzeiji Soto Mission of Molokai last Saturday evening, glowing paper lantern orbs illuminated the faces of dozens of dancers honoring their departed loved ones. Molokai residents joined members of the Somei Taiko drumming group and the Japanese Cultural Center on Oahu in the graceful motions of the Bon dance.
"It's a time to celebrate with our loved ones that have passed on," said Marge Yokomizo-Bento, president of the Molokai Guzeiji Soto Mission, a Buddhist temple located on Hotel Lane in Kaunakakai.
The temple grounds were crowded with community members of all ages enjoying a selection of food and cultural education.
For Reverend Shuji Komagata, who leads Somei Taiko, the Bon festival is also an opportunity for "family togetherness, bridging generations and cultural sharing."
Later, Molokai residents were treated to a Taiko drumming performance from the group. With impressive unity in dizzying rhythms, Somei Taiko's seven visiting members wowed the audience.
Taiko is used in temple as a religious instrument, said Komagata. Because you can feel the vibrations, the drums' beat is "not only interpreted through the ears, but also through the whole body, including the mind and spirit," he explained.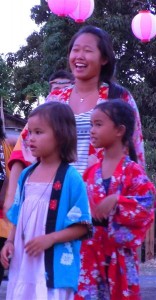 Komagata's mother, Faye Komagata, is the leader of Hawaii Matsuri Taiko, and she was the one who originally brought the group to Molokai over 20 years ago, said her son.
"We have larger temples [on Oahu] but their dedication here is inspiring," Komagata said of Molokai's Soto Mission members.
Slips of paper fluttered in the breeze above the celebration, adorned with the names of the deceased. As the evening came to a close, the flags were burned in a ceremony that released their spirits.