Damien Mosaics a Labor of Love
Community Contributed
By Maria Sullivan
Four mosaics, depicting Father Damien and his life's parallels with Jesus's life, were recently installed next to the front door at St. Damien of Molokai Church in Kaunakakai. They were created by Sister Dorothy Santos during a long and spirit-filled journey and as a labor of love and devotion to the Sacred Hearts of Jesus and Mary, the order to which both she and St. Damien belong.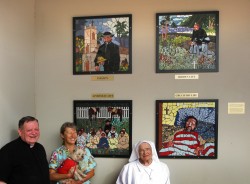 In 2011, Saint Damien Parish former pastor Father Clyde Guerrero was in the homestretch of supervising the construction of the long awaited Saint Damien of Molokai Church. Aware of her work in making beautiful mosaics of Father Damien and other holy persons, Father Clyde asked Sister Dorothy if she would create the mosaics. In February 2015, 93-year-old Sister Dorothy and her mosaic mentor and collaborator, Honolulu artist Karen Lucas, traveled to Molokai to see the installation and to receive the personal thanks of Father William F. Petrie, the current Pastor of the Saint Damien of Molokai Parish.  The mosaics are a gift of the Hawaii Sisters of the Sacred Hearts of Jesus and Mary to the Saint Damien Parish.  On a daily basis, parishioners and pilgrims to Molokai now delight in their presence.
Sister Dorothy undertook the project in earnest and over a three-year period completed the four mosaics.  The work in collaboration with her long-time friend and mentor Lucas, included hundreds of hours, of selecting the scenes, selecting tiles, cutting and setting the tiles to create the colorful mosaics.  The mosaics depict how Father Damien lived the congregation's commitment to live the four stages of Christ's life: his infancy, hidden life, apostolic life and crucified life.  "Infancy" depicts Father Damien with a young child and shows his devotion to the abandoned children of Kalaupapa; it parallels Jesus' childhood and devotion to children. "Hidden Life" reflects Father Damien's prayer life and shows him seated praying his rosary among the graves at Kalawao.  "Apostolic Life" depicts Father Damien with the children and patients at Kalawao and reflects on Jesus' work in his public ministry to meet the personal and spiritual needs of those he met on a daily basis. "Crucified Life" shows the death bed scene of Father Damien during Holy Week 1889, and calls to mind how his suffering paralleled Jesus' final days of humiliation, pain and death.
Over the past 19 years, Sister Dorothy has worked on many mosaics, in collaboration with Lucas.  Their projects have included mosaics of Father Damien, Mother Marianne, the Sacred Hearts, and several historical scenes related to the history of the Sacred Hearts Order. The iconic mosaics  are too numerous to count and are installed in religious buildings in Japan, Indonesia, the Philippines, Rome, Massachusetts and California, many of the Hawaiian islands, and now at the Saint Damien Church on the island of Molokai.