Cutting a Rug at Kualapu`u
After reciting an ode to anuenue – rainbows – and breaking out some sweet hip-hop moves, sixth-grader Poliahu Ranis declared she deserves two-thumbs up.
In fact, all of the third through sixth grade dancers, actors, poets and comedians who stole the spotlight at Kualapu`u School last Thursday beamed with excitement after their performing arts show.
"Dance makes me happy and that's why I like to be in this class and performance," said fourth-grader Jaide Kiaha, member of the Sugarhill Gang hip-hop routine.
During their weekly art classes, a new edition to this year's school curriculum, students crafted a mix of visual and performing art pieces to learn the importance of confidence when sharing their work to parents, family and community members.
"The biggest takeaway for the kids is to learn how to emote and share expression to an audience," said Kualapu`u teacher and performance director Alestra Menendez.
As the kids break-danced to Taio Cruz, mimicked monsters from Michael Jackson's "Thriller" and recited stanzas from Tupac Shakur, it was unnoticeable that this was the first performance onstage for many of the students.
"I only practiced in front of my small class group so when I got onstage I was like 'woah!'" said sixth-grader Tristan Hooper. "There were a lot of people but I learned don't be afraid and don't be shame."
But as the show took off, so did the nerves and anxious looks. The students stepped up and supported one another with each act.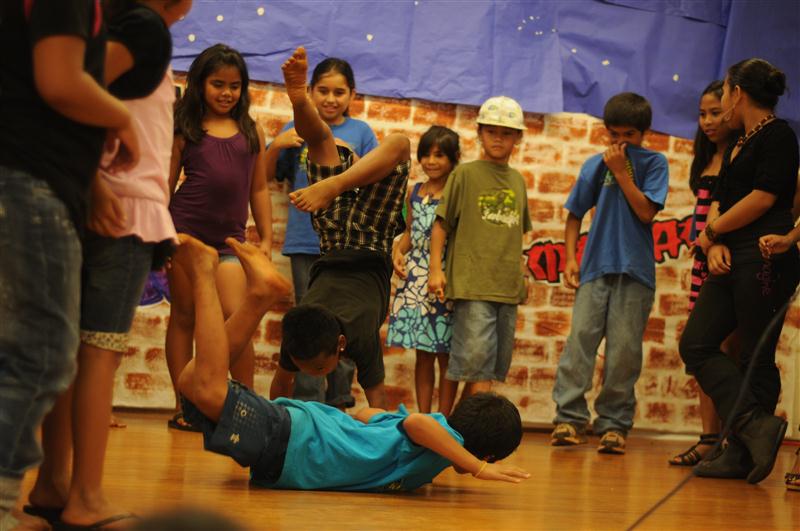 "The performance showed me that people can have dreams to become a rockstar or superstar," said fifth-grader Josephine Mawae. "Today I was a superstar and I want to do it again!"