Crivello Shares Council Experiences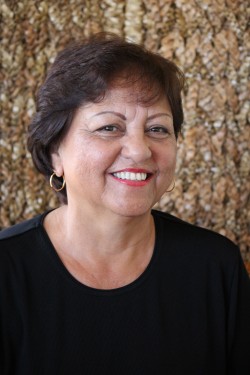 Stacy Helm Crivello joined Maui County Council as the Molokai representative in January. A few months into her new role, Crivello answered questions from the Dispatch about serving as a county councilmember.
How are you setting into your new job?
I am humbled to serve my home island as Molokai's councilmember.  The reality of serving on the Maui council is accepting the fact that I need to spend most of my work week on Maui.  Molokai is my home, and I adjusted to this reality by commuting to Maui on Monday and returning on Friday or Saturday.  The work is full time, and I appreciate the challenge and opportunity to make a difference for our island and Maui County.
What motivated you to become a councilmember?
Persuasion, encouragement and support from our island community.  Listening to the heartbeat of Molokai and feeling the pulse of our community encouraged me to seek Molokai's council seat.
What are you working on right now?
Councilmembers are in session to complete the Mayor's 2014 fiscal budget.   I also serve as committee chair for Housing, Human Concerns and Transportation.  Involvement in the Human Concerns committee allows me to work with the director to support a continuum of social services to address the needs of the people of Molokai, Lanai and Maui through sponsored programs to nonprofit providers and other partnerships.  This committee also expands affordable homes opportunities for low and moderate income.
Molokai's businesses have been in existence since growing up on Molokai, and the owners are generational. In response to the business efforts to expand or renovate their existing infrastructures, I would like to impose a cost effective building process.   For example, instead of covering our parking requirements with concrete, we may be allowed a low impact approach with cost effective options.   Our local businesses pay their fair share of taxes and employ Molokai's people, and I would like to extend my support to their needs.
Any surprises as you began on the county council? 
No surprises.  I did not have high expectations except for me to learn the process and fulfill my obligations and responsibilities as a council member.  I have a supportive and knowledgeable staff and my colleagues are sincere in their efforts to serve our county.
What are some challenges you've faced? 
Airline travel is a challenge.
What have you enjoyed most so far?
I enjoy the challenge of learning the legislative process.  Learning is a lifetime venture.
What do you hope to accomplish while you are on the council?
While serving my tenure on the council I would like to support and implement policies that will sustain our lifestyle, which to me includes our economy, environment and culture.
What is your vision for Molokai?
My vision as a council member should be based on the vision of our Molokai people. I vision an island filled with collaboration and partnerships.   Basically, I would start with the basic fundamentals – a safe and healthy community that strengthens the uniqueness of us being a sharing and caring community.  I ask myself some basic questions:  How do we rid substance and drug use? How can we rid domestic violence? How do we create employable opportunities that are compatible with our rural landscape? How do we support businesses that are employing our Molokai population?  How can agriculture be a force of our economy?  How do we sustain our water resources?   What infrastructure is needed to complement agriculture?  How can we improve our public infrastructure? Do we need a new gym?  When will our roadways be paved? The list of questions goes on and it is my role to work with the community to find reasonable solutions.
If there are any concerns, I encourage our Molokai community to contact my office at 1-800-272-0026 (Extension 7678) or 553-3888.  My email address is: stacy.crivello@mauicounty.us